And once more, hello!
Today was such an incredible adventure filled with history, photographs, presentation, song and dance, and impulsive purchases. So let's get started!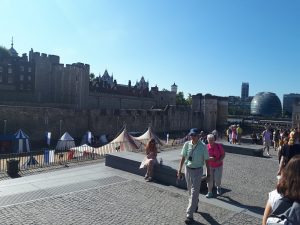 The day began with a choice of amazing visits. Some went to the University of Oxford, others went to the University of Cambridge, while I went on the visit to the Tower of London and the cruise of the River Thames. I swear I've never taken more photos at once in my life, except for maybe Rolls-Royce. The Tower of London is an incredible sight. Though equipped nowadays with electronic lights and new safety rails, it still features its old stone walls, courtyards, and battlements. There are old cannons on display in the courtyards and completing the circuit around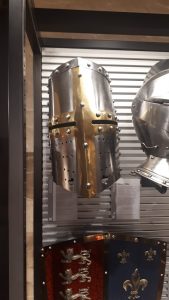 the tower allows you to see the halls, bedrooms, and store rooms. Through steep, winding staircases you can keep going to find the old royal crown jewels on display. In addition,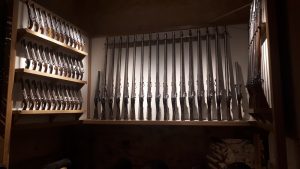 the white tower, the museum at the center, housed the most incredible collection of medieval and renaissance armor, weapons, and artillery that I had ever seen. Again, lots of pictures. And lots of souvenirs. I used to think of myself as a man of strong will. However, when knight's Templar helmet shot glasses and rapier BBQ forks are right there for the taking, one can't help but have maybe just one. I think perhaps I'm still not completely aware of the currency conversion and everything seems cheaper.
As if I didn't already have enough pictures, I forceably filled the remaining hard drive space on my phone with photos upon photos of old structures that we passed as we motored down the River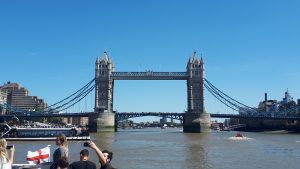 Thames. These old buildings have an immense amount of history, and they have a style like nothing I've ever seen. Furthermore, it was one of the most peaceful excursions, as we were all comforted by a cool river breeze; a lovely reprieve from London's heat wave.
Such an incredible day already, but as my professor Tim Cooper says: "But wait, there's more!"
This night was LIYSF's very o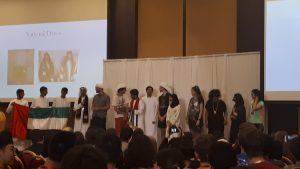 wn Traditions of Home performance evening. It featured cultural performances and displays from the diverse group of students here at LIYSF. Some performances included cultural chants, dances, national anthems, even at one point we got to see some Spaniards stand on each others shoulders. Welcome to LIYSF: the London International Youth STRENGTH Forum. Tonight I also got the opportunity to perform. With myself on piano, I accompanied my new Canadian friend Kaitlyn, who sang Hellelujah by the Canadian songwriter Leonard Cohen. My ability to play required some immense polishing before the performance but ultimately, the song was well received, and we had a lot of fun performing and representing Canada; fun being of the utmost importance to me.
With all that being done, I've been left a very tired patriotic Canadian.
2 days left at LIYSF.
From London, England, cheers and goodnight,
Nikola T.
LIYSF 2018