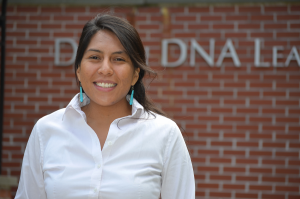 The Faculty of Science and Indigenous Affairs at UFV are pleased to welcome Data Science Educator, Dr. Joslynn Lee from the DNA Learning Center at the Cold Spring Harbor Laboratory on Wednesday, November 30th, 2016.
Joslynn will be attending the Winter Solstice Lunch hosted by the Indigenous Student Centre staff and elders at CEP-A1454 from 11:00 am to 2:00 pm. Following the luncheon she will be traveling back to the Abbotsford campus to present:
"Balancing Diné and Keres Cultural Heritage in Academic Sciences"
When: Wednesday, November 30th @ 2:30 – 4:00 PM
Where: B101 – Abbotsford Campus
[typography font="Cantarell" size="24″ size_format="px" color="#e61247″]Everyone Welcome![/typography]
---
Ya'at'eeh! Shí éí Joslynn Lee yinishyé. Kiis'áanii nishłį́, dóó Tódik'ózhí bashishchiin. Aadoo Kiis'áanii da shícheii dóó Áshiihí da shínálí.
[typography font="Cantarell" size="16″ size_format="px" color="#71b307″]Hello! I am called Joslynn Lee. I am of the Laguna Pueblo, born for the Salt Water Clan. And the Acoma Pueblo are my maternal grandfather's people and the Salt Clan is my paternal grandfather's clan.[/typography] In the Diné-Navajo way, this is how we introduce ourselves. Other Diné will know where you come from and who your relatives are.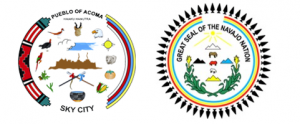 Guwadzii Joslynn Lee, shawiiti hanu stah `che.
[typography font="Cantarell" size="16″ size_format="px" color="#71b307″]Joslynn Lee is of the Parrot Clan of my people.[/typography] This is the Keres way (Laguna and Acoma Pueblo) to introduce oneself.
There are over 567 federally recognized tribes in the US. I represent three: Navajo Nation, Pueblo of Laguna, and Pueblo of Acoma.
Biography: I grew up on the Navajo Reservation in New Mexico. At a young age, I remember herding goats with shinálí (my grandma in Diné). She would tell stories about the land during these walks; she was my first scientist. We would also look for this special plant with yellow flowers, dééh (wild tea in Diné). It was interesting to see vegetation in the arid, high desert. Why did some plants survive out here with little water? Near my dya'au (grandma in Keres) in the village of Mesita on the Laguna Pueblo Reservation, it was a similar landscape. The stories of cultivating the area spoke of the resilience of my people.
I studied chemistry at Fort Lewis College as an undergraduate. I encountered amazing mentors who encouraged me to do research and consider graduate school. Coming from a Native background, I appreciated that my professors were very open-minded with my cultural values. After undergrad, I moved to Boston to work as a bioanalytical chemist at Vertex Pharmaceuticals. [READ MORE]