Last night the Physics Student Association welcomed biophysicist, Dr. David Sivak from Simon Fraser University. His talk focused on molecular machines using mitochondrial ATP synthase as a model and manipulating them to study their function. He also shared the interesting research that is being done in his lab [The Sivak Group] … such as attaching nanomagnets to make the F1 subunit or catalytic site to rotate at will. The audience was very engaged and had many questions for him.
Dr. Sivak was pleased by the number of UFV BSc graduates who are now pursuing grad studies at SFU. In fact, he included a special slide highlighting a few of our former students!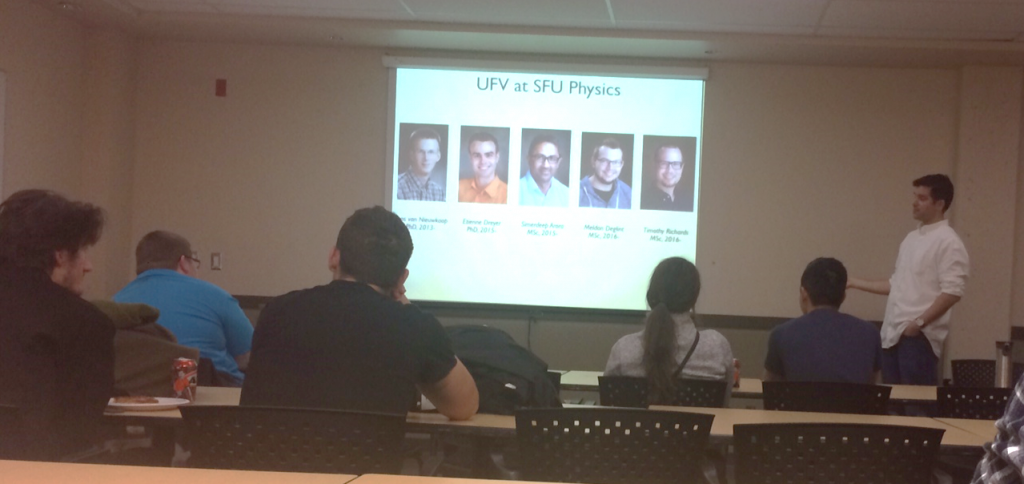 Koos Van Nieuwkoop
UFV BSc Graduate 2010
SFU PhD Candidate
Etienne Dreyer
UFV BSc Graduate 2015
SFU PhD Candidate
Simerdeep Arora
UFV BSc Graduate 2015
SFU MSc Candidate
Meldon Deglint
UFV BSc Graduate 2015
SFU MSc Candidate
Timothy Richards
UFV BSc Graduate 2014
SFU MSc Candidate
A special thank you to the PSA for organizing this event.
---
Be sure to check out other upcoming events the PSA has planned!