Archived from UFV Today, August 16 2012.  Original post by Marketing Communications.
Congratulations to Durga Dhaliwal, Dip '09, for his Keeping in Touch submission to the Fall issue of Skookum. You too can enter to win, simply by contacting us and letting us know what you've been up to since graduation. Submit your short update for the next issue and be entered to win!
Dana Boogerd, BA Engl '08 — After graduating from UFV, Dana worked as a copy editor for several years at School Specialty Inc, a major educational publishing company in the U.S.  Recently became certified as a financial advisor, and now works with Sun Life Financial. Dana spends her free time participating in the Chilliwack Triathlon Club, volunteering at the YMCA, and acting as a newly appointed director for the Fraser Valley Creators' Association, a local non-profit organization which produces and stages local theatre productions in the Chilliwack and Abbotsford areas.
Mark de Bruijn, Joinery Cert '10 — is now food services manager for the Salvation Army in Abbotsford. He hopes to start his own woodworking shop/business soon as a side business. Mark spends a lot of his off-time volunteering.
Natashia Cox, BSc Geog '08 — is a banjo playing, great-dane owning, once-SHIM mapping technician. Certified as an environmental professional, Natashia is committed to working alongside ECO Canada to help connect environmentally minded individuals to build BC's capacity for dissemination of environmental information, networking, and creating environmental opportunities.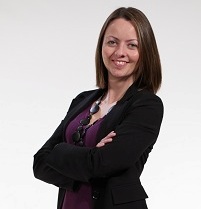 Susan Francis, BBA (Co-op option) '00.
Susan Francis, BBA (Co-op option) '00 — was immediately hired on after graduation by UFV as a co-op coordinator in the Career Centre. Susan was also an Alumni Association board member for many years. She furthered her education and completed a Master of Arts in Leadership degree through Royal Roads University. Her research was on career development of professional staff at UFV for the Employee Services department. She was seconded to acting manager of the Student Life department. Susan lives in Mission and met her husband at UFV. She has been happily married for 10 years, has a darling daughter who is 3 years old, and a baby on the way in June 2012! Susan continues to balance family life and professional life. She is a proud UFV alumnus with strong roots at UFV.
Scott Fraser, BKin '04 — graduated from UFV in 2005 with a degree in Kinesiology and went on to work in the mining and construction industry and attend certification courses at BCIT in Occupational Health and Safety. He works for FARSHA, a Health and Safety Association for all of Agriculture.  In his current position as director of programs he is involved as a Canadian delegate to the US and works with research groups on confined spaces funded through the USDA with representatives from other major universities throughout the U.S. Scott manages the development of programs including Worksafe's Certificate of Recognition program.
Ashleigh Gilbert, BSc  Geog '07 — Ashleigh  worked in Jonathan Hughes' Paleoecology Lab (Biogeography Lab) and also received a NSERC USRA, enabling her to assist in research in Rivers Inlet and local wetlands. After graduating from UFV, Ashleigh completed a Master of Environmental Science in wetland ecology at Thompson Rivers University. At TRU, Ashleigh co-founded the TRU MSc Graduated Students Club, worked with various NGOs, and presented her research to the community. Ashleigh is currently employed as a project coordinator doing environmental remediation at O'Connor Associates, a Parsons Company.
Amanda Henderson, BA Engl '08 — Shortly after graduating, Amanda began work as the ticket operations manager for the Abbotsford Heat.  In her spare time, Amanda sits on the strata council for her new home, trains for and competes in dragon boat racing, and has also raised funds for cancer research by successfully completing two "Ride to Conquer Cancer" events.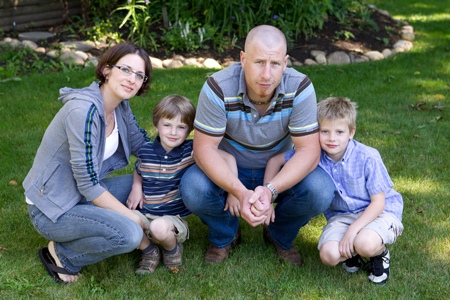 Sarah Kamp, Dip Soc Serv '00.
Sarah Kamp, Dip Soc Serv '00 — was hired both at Abbotsford Community Services, and as a teaching assistant in the Abbotsford School District. Both the training she received and the excellent practicum placements played key roles in the opportunities she experienced. She has a husband and two children, and continues to enjoy both them and the job she began in 2001, helping children achieve their potential in the school system!
Melissa Kendzierski, BA Geog '09 —works as the project manager for the goBEYOND Campus Climate Network where she facilitates sustainability and climate change initiatives at universities across the province. In 2011 she started a consulting business, Mkendzi Sustainable Community Consulting, where she works to support sustainability initiatives in the community — specifically specializing in graphic recording and facilitation.
Wim Kerkhoff, BCIS '06 — was born and raised in Chilliwack. He enrolled in the CIS program at the Career Technical Center in Clearbrook in 1997 in Grade 11, completing his first-year CIS certificate in fall 1999, ahead of typical college students. After many years of co-op and part-time studies, he completed his Bachelor of Computer Information Systems in 2006.  Wim has been working essentially full time since 1999. He founded Caylix Internet (a locally owned filter ISP) in 2005 and Kerkhoff Technologies in 2007.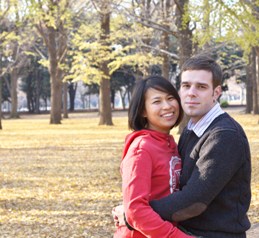 Minako Kikuchi, BA '04, and Dmitri Kravtchenko, BSc '06.
Minako Kikuchi, BA '04, and Dmitri Kravtchenko, BSc '06 — right after completing her degree, Minako moved to Vancouver and worked as an admin officer for a year at an English language school for international students. She then moved back to Tokyo in Aug, 2006. Since then, Minako has been working as an admin officer at The British School, which follows the English national curriculum for British pupils living in Tokyo. She was married in Tokyo on January 1, 2012 to Dmitri Kravtchenko, who is also a UFV alumnus. Dmitri is currently finishing his Master of Science at Lakehead University in Ontario. UFV changed their lives completely!
Sybille Kissing, Dip Fashion Design '10 — Since graduation Sybille has continued to work at Arc'teryx, a position she started before she graduated. Sybille now lives in North Vancouver in a wonderful basement suite. She is enjoying the sun and all that Vancouver has to offer (galleries, VAG, MOA, festivals, yoga, mountains). It's been great, she reports.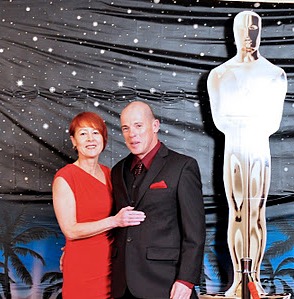 Rob McKinnon, BGS '87.
Rob McKinnon, BGS  '87 — Rob graduated from Fraser Valley College with a diploma in Liberal Arts, then SFU with a BA in History and Anthropology, a Public History certificate, a BC Studies certificate, and a teachers' certificate. He then received a BGS from UCFV and taught in the Adult Ed. dept. there after working for as a volunteer tutor for five years. He returned to SFU for his BEd, and his MEd. Then he went to UBC to do his MA and then PhD in history. Rob turned to the military as a field engineer, later, a combat engineer.  This summer Rob is supposed to be posted to Edmonton where he will retire in another 32 months. He believes the outstanding instructors he had at FVC were the reason he did so well. Thanks Bob, Doug, and Dave!
Shannon Larson, BSc Math '08 — After UFV Shannon went on to attend UBC, graduating from the Bachelor of Computer Science program. She participated in mentorship and outreach programs for women in science and technology at both UFV and UBC.  Shannon participated in the co-op program at UBC, working at Bycast in Vancouver (since acquired by NetApp), and an internship at Microsoft in Redmond, WA.  She now works full time at Microsoft as a program manager in Windows, working with large-scale data to measure and improve the reliability of Windows.
Ryan Logan, BSc Math '06 — Completed his PDP degree at UBC.  Since then Ryan has enjoyed teaching high school mathematics for the past six years in the Delta School District, and most recently in the Chilliwack School District.  Ryan has recently completed his Master of Science in Educational Leadership at the University of Oregon and will look to pursue administration in Chilliwack in the coming years.
Joanne Neilson, BSc Bio '06 — after graduation Joanne was immediately hired by the BC Conservation Foundation where she started as a field technician, doing wildlife surveys in the Fraser Valley, to her present role as a regional manager. She currently manages over 85 projects a year, looking for species-at-risk and their habitat requirements across Southern BC, from the Rocky Mountains to the west coast of Vancouver Island.
Darren Penner, BA Hist '03 — Went on to study law at UBC, graduating in 2007 with an juris doctor degree. After articling and then practising as a lawyer in a Langley firm, Darren moved to Vancouver where he started his own law practice before joining Watson Goepel Maledy LLP. Darren is a member of the Law Society of British Columbia, the Canadian Bar Association, and the Vancouver Bar Association.
Ryan Quinn, BA Criminal Justice '10 — Upon graduation, Ryan was hired at PLEA Community Services as a youth support worker. He currently works with youth between the ages of 12 and 17 who have been court-ordered to attend treatment. He supports them in learning basic life skills, overcoming addiction, becoming involved in pro-social activities, and preparing for life after treatment. He hopes to start an MA in Criminal Justice at UFV in September. Ryan believes his education at UFV assisted him in acquiring his current job and gaining valuable experience needed to work with youth justice clients. Ryan was especially grateful for the practicum he was placed at in the Surrey South Youth Probation Office, which confirmed his interest in working with youth in conflict with the law.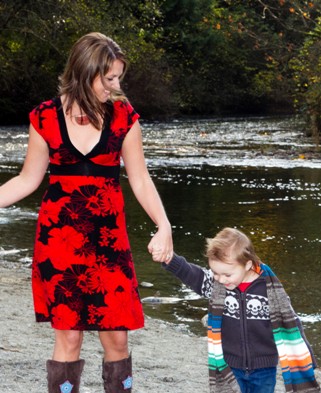 Natalie Robertson, BA CYC '09
Natalie Robertson, BA CYC '09 — was a part-time student, working full-time, getting married, and buying her first house while attending university. She was nine months pregnant in her last semester; Natalie did not let school slow down her life aspirations! Since then, she has had a beautiful boy named Jet, who recently turned 3. Natalie is now working her "dream job" as an aboriginal youth worker in schools, and as a counseller in a Children Who Witness Abuse program.  The flexibility of the CYC program allowed Natalie the opportunity to achieve her goals, without putting life on hold.
Pamela St. Amour, BKin '03 — armed with a degree in Kinesiology and a minor in Business Human Resources Pamela was a private sector entrepreneur for over 15 years, contracting to the District of Maple Ridge for 12 years.  Pamela became the part-time fitness programmer for the City of Abbotsford in April and has recently been promoted to fitness coordinator for the City of Abbotsford, overseeing and staffing the fitness area. Pamela works closely with Parks and Recreation to offer the best recreation and fitness.
JoAnne Smith, ECE Cert '93 — With a Dean List Honors and a double diploma, after graduation JoAnne was hired to help get a literacy-based preschool off the ground called Families in Motion. When this program was established JoAnne moved on as manager at Chimo Childcare.  She moved on to parent outreach at the Ann Davis Transition Society, where she remained for 10 years. JoAnne sought out programs such as: Adlerian Psychology Associate Of BC, Early Learning Canada, Autism Community Trainings (ACT) and she became a member of Chilliwack Child and Youth Committees and more.  JoAnne now works in Edmonton Alberta as a post-secondary education assistant with the Alberta Association of Community Living and has an office at NAIT (Northern Alberta Institute of Technology).
Tracey Vanderaegen Jones, Dip Nursing '04 — After completing her diploma in nursing Tracey earned her bachelor's degree from the University of Washington in March of 2010 and is currently working on her master's degree.  She continues to work at Virginia Mason Hospital. Tracey is assisting the state of Alaska with building a similar perioperative consortium training program to the one she chairs in the Seattle area and they are set to start their first cohort in February. Most recently, she has accepted the position of assistant nurse manager over a set of perioperative specialty service lines and will continue to grow as a leader within Virginia Mason's operating room.
Angela Veters, BA Hist '07 — Since graduation Angela has been working on her Master ofDivinity at Newman Theological College, where she is presently studying in Edmonton, AB, to pursue her goal in prison chaplaincy. Angela and her husband Shawn have a two-year-old daughter Juliana and another one on the way in August.
Helen Yannacopoulos, BFA '08 — currently teaches art at Mission Secondary. Helen has been creating and teaching art workshops at the Mission Secondary Art Club since 2010. She volunteers her time demonstrating her art techniques for The Reach Gallery at the Abbotsford Farmers market as well as donating her paintings to various fundraising events such as Richmond Gateway Theatre pARTy Fundraiser. Helen is a member of VEGA (Vancouver exhibition of Greek Artists), and CARFAC, a non-profit organization that represents visual artists locally and nationally, and is also a member of the BC Art Teachers' Association.
Amber Zutz, MSc, BKin '01, CEP — graduated from UFV in 2002 and went on to complete a Master of Science degree at SFU in early 2006. During her studies Amber was actively involved at St. Paul's Hospital in their Healthy Heart program and atherosclerosis lab. As a cardiac rehabilitation specialist, Amber worked with various programs involving the promotion of physical activity, risk factor management, heart health, and chronic disease. In 2005, Amber began as a sessional instructor at UFV in the Kinesiology and Physical Education department, and in 2008 was hired as a full-time faculty member.  She continues her work at UFV as well as her involvement with city-wide heart programs from Vancouver to the Fraser Valley.
This article is featured in the Spring 2012 issue of UFV Skookum magazine.