Archived from UFV Today, May 4 2012.  Original post by Leslie Courchesne.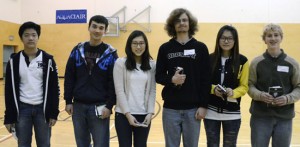 On Friday, May 4, the University of the Fraser Valley's Mathematics and Statistics department hosted its 15th annual final round of the BC Secondary Schools Math Contest.  With 108 students from 19 schools participating in 2012, UFV's final round continues to be the most well attended in the province.
For the second year in a row, top prize in the senior contest went to Sung il Anh, now in Grade 9 at Yale Secondary School.  Ji Sup Kim, in Grade 11 at Yale Secondary, took second prize in the senior contest, while Daniel Schwarz, a Grade 12 student at MEI Secondary School, took third.  Students earning the top three scores in the senior contest are each offered a tuition waiver for their first year at UFV, valued at up to $4000 (if they have not received such an offer in a prior year).
First place in the junior contest went to Min Joo Kim, a Grade 10 student at St. John Brebeuf Secondary.  Cavizshajan Skanthan, a Grade 6 student at Eugene Reimer Middle School, took second place, while Ingrid Choi, a Grade 9 student at Vedder Middle School, took third.
A new component of the final round this year was the introduction of a junior team contest, where groups of students could work together to solve the problems on the junior contest.  First place in the junior team contest went to the Yale Secondary School team, while the Clayburn Middle School team and the Dasmesh Punjabi School team took second and third place, respectively.