Archived from UFV Today, March 23 2012.  Original post by Ashley Wray.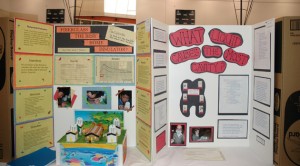 Across Canada, March is being referred to as "Youth Science Month."
To celebrate, B.C.'s future leaders of science and innovation are showcase their creative science concepts and theories.
From Wednesday, March 28 to Friday, March 30, local students will be sharing their works at UFV's Envision Athletic Centre in Abbotsford.
The three days will involve judging with students,  public viewing of the displays, and an awards ceremony.
The public are welcome to view the science displays on Thursday, March 29 from 9 a.m.-4 p.m.
Students in Grade 7-12 are competing for the ultimate award – to represent their region at the Canada-Wide Science Fair, held in Charlottetown, Prince Edward Island, May 12-19, 2012.
"The chance to travel to Charlottetown and take part in such a significant event as the national Canada-Wide Science Fair is a great motivator for participants," says Patti Leigh O.B.C., Interim Executive Director, Science Fair Foundation of BC. "But Science Fairs are certainly more than just competition among students; they are a forum for thought, analysis and inspiration for the community at-large."
About the Science Fair Foundation of BC:
The Science Fair Foundation supports regional school science fairs throughout British Columbia and the Yukon each year to promote science education through The Science Fair Program. Our goal is to foster curiosity and build for the future with a mission to sustain and enhance the science culture of the youth in BC and to build BC's future by supporting science and technology education by inspiring curiosity through The Science Fair Program.
The Science Fair Foundation of British Columbia (SFF BC) is a non-profit charitable organization incorporated in February 1998 to support and promote science fair activity in British Columbia. The Foundation is committed to ensuring ongoing financial support in order to build a stronger and more visible Science Fair Program throughout the province. To learn more about the Foundation please visit www.sciencefairs.ca.