Archived from UFV Today, April 2, 2012. Original post by Anne Russell.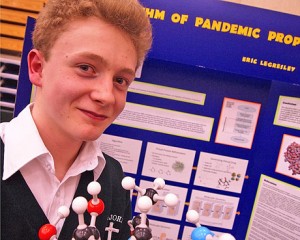 Eric LeGresley of St. John Brebeuf was the big winner for his science fair project entitled Computational Methods for the Design and Screening of Novel Neuraminidase Inhibitors.
The Fraser Valley Regional Science Fair, held at UFV on March 28-30, 2012 featured a wide array of scientific findings by students in Grades 7-12.
UFV has hosted the fair for the past three years, and each year it gets approximately 175 science projects from students in a region stretching from Langley to Boston Bar.
Some were impressive feats of intellect, like Grade 11 Saint John Brebeuf student Eric LeGresley's "Algorithm of Pandemic Proportions," which might someday be used to help create new viral inhibitor drugs. His is graduate-level research.
Others were high in entertainment value, such as "Gotcha!" by Grade 7 Clayburn Middle school student Page Rosseau, which is a contraption designed to restrain a cat for claw clipping, with a stuffed cat in the apparatus and photos of Rosseau's own feline friend receiving a pet-icure.
The annual event is a labour of love for organizer Ron Wilen of the University of the Fraser Valley (UFV) science faculty.
"I enjoy the kids, and I enjoy the projects," he said.
This year there was a rich vein of environmental conscience that ran through the projects, and Wilen estimated that about 30 per cent of the projects related to the environment.
In addition to the trips to Charlottetown, the fair gives away some $42,000 in prizes and scholarships. These include a one-year scholarship to UFV valued at approximately $4,000, a pair of $2,000 scholarships from the B.C. Innovation Council and B.C. Hydro, and $1,000 from Genome B.C.
On Wednesday there was public viewing of the displays and judging, but the second day of public viewing on Thursday was lost to the teacher job action. The awards ceremony on Friday night went ahead.
Nine local students will be moving on to the Canada-Wide Science Fair, which this year will be held in Charlottetown, PEI on May 12-19.
The winners were:
BCIC Scholarship of $2,000 and the UFV Scholarship (Special): UFVs board of governors is offering a year's tuition waiver for a top senior student (grades 11 or 12),  ($3900 scholarship): Both to Computational Methods for the Design and Screening of Novel Neuraminidase Inhibitors by Eric LeGresley of St. John Brebeuf
Canada-Wide Science Fair Winners
The Kippypult by Kylee Hickey, Clayburn Middle School
Musing on Music by Aaron Schoepp of Langley Christian
Go With The Flow by Katelyn Verdonk of Barrowtown Elementary
TeloMice: The Effects of Telomere Enhancing Products on Mice by Andrea Wong and Shaylee McGuire of Yale Secondary
Revealing the Invisible World of Radon by Gurmeen Banipal and Charanpreet Mahal of Dasmesh Punjabi School
To See or Not to See by Jayden Schmidt of Abbotsford Traditional Senior Secondary