Archived from UFV Today, June 18 2012.  Original post by Anne Russel.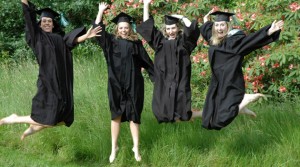 There were Van Meers and Dhaliwals, Malloways and Froeses, and Kims and MacDonalds in the spotlight on June 14 and 15 as more than a thousand new graduates of the University of the Fraser Valley crossed the stage at three convocation ceremonies at the Abbotsford Entertainment and Sports Centre adjacent to the Abbotsord campus.
Approximately 2,100 students earned credentials at UFV this year (ranging from 10-month certificates through diplomas, bachelor's degrees, and master's degrees) and at least half of them attended ceremonies for their moment of glory as friends and family from across the Fraser Valley and beyond cheered them on from the stands.
UFV president Mark Evered told the graduates that convocation marks the end of one phase of life and the beginning of another.
"I know you faced many challenges in your studies and in your lives outside of classes. I know about your sacrifices and the talent and effort you needed to succeed. You're entitled to be proud of that, because we are very proud of you too. But I'm sure your studies have also brought a sense of humility. Mine certainly did. Every time I learn something new, I discover more I don't know and need to know.
"But what I know is that your education at UFV will be the foundation from which you can reach with confidence into the unknown. Build on what you know, and enthusiastically embrace the new opportunities for creativity and service ahead. Be humbled by what you don't know, but proud of what you do, and don't be shy about tackling the tough things."
Three student speakers also addressed convocation, one at each of the ceremonies.
 Bachelor of Arts graduate and philosophy/political science major Jack Brown spoke about the revolutionary nature of the university.
"We must first remember, for our own sakes, our education, revolutionary as it is. And then we must go forth and join battle, to find all of those injustices, the big ones and the small ones, and right them. We cannot be deterred, whether from our own weakness or the malicious lethargy of those that came before. Our age is one of unemployment, of a malaise in our economy and in our hearts that makes everyone a pessimist. It leads ourselves to question the value of reading Avicenna and Hemingway, and opens the path to a sapping of the spirit. To give in to this urge, to throw down our arms is to rob the world of our creativity, of our passions, and of our reason.
"A significant period in my life has come to a close, and it has in your lives too. I do not know what will happen next, what moves I will make, what jobs I might hold…. We must remember; we must better ourselves, and we must bring forth all of our talents into this world and not shrink from the adversity that awaits us.
"And of course, we must defend this place … the very idea of the university. It's that thing that animates everything which we have done here, that keeps the staff and faculty and even the bureaucrats going, even if they don't know it. It is the revolutionary proposition that knowledge has value simply because it is knowledge; that education is open to any man or woman from whatever place and whatever background; that the freedom to think differently, to debate, and yes, even disagree with authority is an activity worth celebration, not condemnation."
Jennifer Ofeimu, a graduate of the Teacher Education program, reminded the graduates that they are among the lucky ones.
"Despite the lack of sleep, lack of a social life, and the lack of a bank account we are truly privileged; only 6.7% of the world's population has graduated with a university or college degree.  We have the ability to act upon our liberties; to live in a place and time where we can have freedom of thought, freedom of speech, and as professionals we cannot lose sight of what has been afforded us.  My wish for us all is that our knowledge becomes the positive progression of tomorrow; that we are the social agents of change.  As we step firmly with integrity we will move forward and share our privilege with others. "
 Bachelor of Science in Nursing grad Matt Krabbendam, spoke on a theme of overcoming quitting points.
"We all have our quitting points. We need to break through them! We grow the most when we push through them. Breaking through a quitting point builds momentum that will carry you to the finish. Visualize the reward, the end result, the payoff. If could be your first paycheque, or the satisfaction of writing a last exam. Today, we are all finishers."
UFV conferred honorary degrees on Sto:lo elder Ray Silver Sr., rock and roll radio pioneer and veteran broadcaster Red Robinson, and professional hockey player turned advocate for child sexual abuse victims Sheldon Kennedy.
Top academic awards went to Donna Alary (governor general's gold medal), Ricardo Gigglberger (governor general's silver medal), Marina Parapini (governor general's bronze medal), and Kyriel Funk (lieutenant governor's medal). Deans' medals went to Rosanna Martens, Deni Hawley, and Crystal Drouillard. The Teaching Excellence award went to Dr. Sheryl MacMath of Teacher Education, and the Research Excellence award went to Dr. Olav Lian of Geography. The Betty Urquhart community service award went to the Choice program at the Agassiz Centre for Education, and Pacific Riding for Developing Abilities (Chilliwack).