Claire Bennett, Curator, Peel Art Gallery Museum and Archives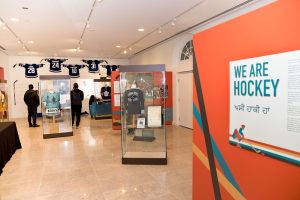 The Peel Art Gallery Museum and Archives (PAMA) in Brampton, Ontario was thrilled to finally install the  We Are Hockey exhibition (2018) curated by the South Asian Studies Institute (SASI) at the University of the Fraser Valley. After becoming aware of the exhibition in 2018, the exhibition's display was confirmed for 2020 but plans were delayed until October 15, 2022 due to COVID.
PAMA's temporary gallery is nearly double the size of the gallery at the National Historic Site Gur Sikh Temple's Sikh Heritage Museum in Abbotsford BC. The additional space, and support from SASI and Dr. Courtney Szto of Queens University, provided an opportunity to add additional local content to the exhibition.  Peel Region, specifically Brampton, is one of the most diverse regions in Canada and is home to the largest population of Sikhs in Canada. To ensure that this community saw themselves in the exhibition, staff reached out to the Brampton Hockey Association requesting images of local coaches and players. These images make up a gallery wall that grounds the exhibition in Brampton.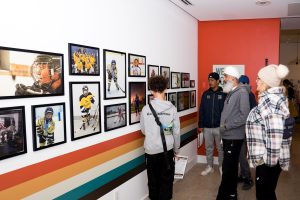 Perhaps one of the most exciting new items in the exhibition is the Future Aces jersey, its creed and images. Herb Carnegie founded the Future Aces Hockey School, the first hockey development club in Canada. Herb was an expectational athlete who played throughout the 1930s and 40s. His talent was unmatched but racism prevented him from having a career in the NHL. Once his hockey career ended Herb began community initiatives and businesses, his legacy continues through the Carnegie Initiative and the Future Aces Foundation.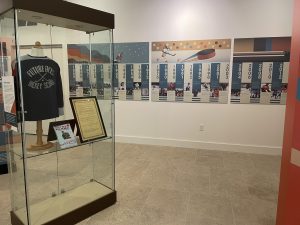 Additionally, grassroots organizations from around GTA which support, advocate, and elevate racialized youth in hockey lent jerseys and images to the exhibition. These organizations included Black Girl Hockey Club Canada, Apna Hockey, Hockey Equality and 3Nolans. Additionally, the Professional Women's Hockey Players Association and the Toronto Maple Leafs donated jerseys and shared a video highlighting the diversity, equity, and inclusion initiatives that the organization is undertaking.

To kick off the exhibition PAMA hosted an opening reception which included a panel discussion where Dr. Courtney Szto was joined by Amrit Gill, broadcaster and producer with Hockey Night In Canada Punjabi and Saroya Tinker, professional hockey player and Executive Director of Black Girl Hockey Club Canada. The three panelists discussed hockey culture and the changes needed for the game to truly become inclusive and worthy of the being Canada's beloved sport.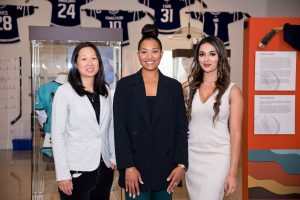 The exhibition is on display until April 30, 2023. To learn more about PAMA please visit:  https://www.pama.peelregion.ca/exhibitions/we-are-hockey