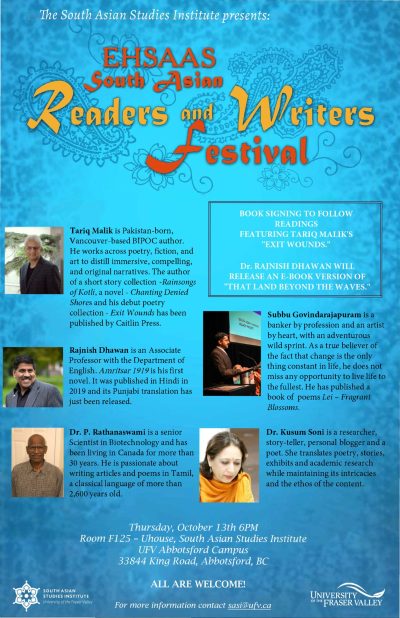 SASI's traditional 'EHSAAS Readers and Writers Festival' was reinstated after a long hiatus on October 13th, at 6pm.
A diverse group of brilliant writers, poets, and authors joined in person at the SASI and read their poetry in Hindi, Punjabi, Tamil, and English.
In his ground-breaking debut collection Tariq wove together history and myth with his own family's experiences of immigration to uncover what it truly means to belong. Whether he was recalling his childhood memories of the death of his father, imaging himself as a dead soldier lost in the sands of the Kuwaiti desert, or drawing upon his family's experience of 'three wars and migrations, Malik's moving search for home resonated with the audience who may have felt at odds with a dominant monoculture.
Malik's poetry combines traditional Punjabi mythology and First Nations' symbolism with contemporary events that have shaped the lives of immigrants: 9/11, RCMP violence, war. The result is a defiant triumph of the plurality of minority experiences—a poetic chorus of immigrants and their descendants coming home to the truth and power of their many worlds.
The Festival also e-launched Dr. Rajnish Dhawan's 'That Land Beyond the Waves' play. This play was produced by SASI and staged twice in a row with full-house attendance in 2015. Dr. Rajnish, the Associate Professor of English department at UFV, was accompanied by the play director Dr. John Carol (Professor Emeritus), and the actor, Julia Dovey at the e-launch.
There were also readings from poets Dr. P. Rathanaswami, (Tamil and English), Subbu Govindarajapuram (English), Ms. Satwant Pandher and Dr. Kusum Soni (Punjabi, Hindi, and English).
The festival was very well attended by UFV faculty, students and the members of the community. The SASI team would like to thank all the poets, authors, actors, and singers who made the evening lively.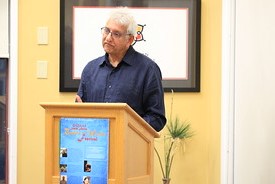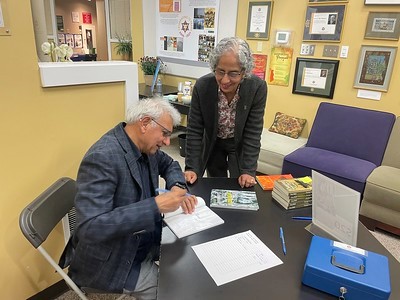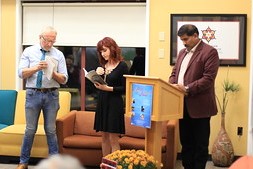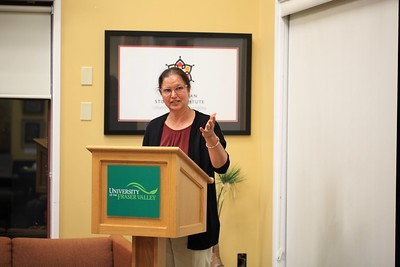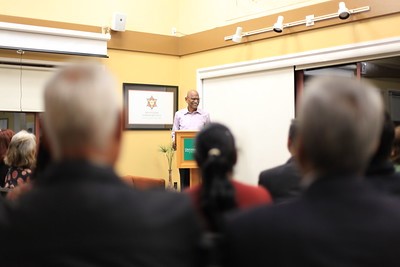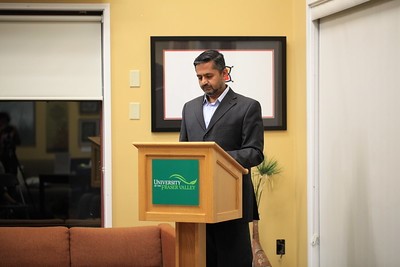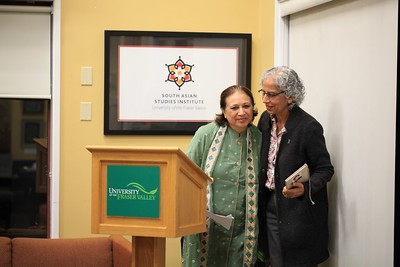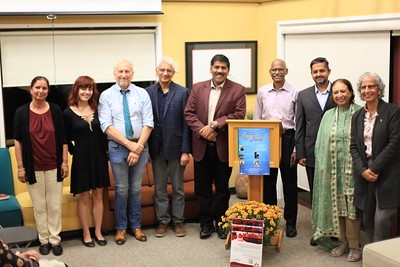 To enjoy more photos of the events, please visit https://flic.kr/s/aHBqjAbdgE
For more information about our upcoming events and conferences, please visit and like our Facebook page  https://www.facebook.com/ufvsasi/ 
To know about our latest projects, Please visit https://www.ufv.ca/sasi/
For South Asian Digital Archives Project https://sacda.ca/
For South Asian Canadian Legacy Project and Threading our Stories  – https://saclp.southasiancanadianheritage.ca/ 
 https://threadingourstories.ca