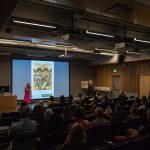 The film screening of 'Rails, Jails, & Trolleys' received an overwhelmingly positive response at a sold-out screening by a diverse audience on a busy Wednesday evening of August 24th. More than 150 people from all walks of life came to the premiere screening from BC, Alberta, and Ontario. The audience included social activists, academics, researchers, students, and community members.
Rails, Jails, & Trolleys is a feature-length documentary, produced by the South Asian Studies Institute (SASI), that highlights the timeline of the historic Farmers' Movement in India and the Canadian diaspora's response to it. The film features insights from nineteen activists, journalists and academics who provide their research and knowledge on India's history of agriculture, the ongoing economic decline in the workforce, human rights violations, and the way in which all of these factors led to the largest farmers' protest in history in 2020-2021.
Producer of the documentary Dr. Satwinder Bains, Director of SASI said, "the need to research and document the Canadian response to the movement that gained international attention was critically important for SASI. We were present as history was being made and documenting it for posterity was vitally important for us in the here and now and for future generations".
The young film director Henna Mann stated that, "Dr. Bains and I had a vision to study the perspectives of Canadians across British Columbia, Alberta and Ontario who had been actively engaged in amplifying the voices of farmers in India through their contributions in Canada. Our research and insights from subjects focus on eleven themes of the movement, including India's agricultural pre-history, daily protests and fundraisers across British Columbia, global demonstrations and more".
"It is such a moving and powerful documentary showing that the struggle and courage of farmers resulted in a country- and world-wide movement that had the power to make the Indian Government listen.  But also, an inspiring documentary, giving other organizations and communities hope that it is worth to keep fighting for their rights" – an audience member.
The documentary aims to educate and spread awareness about India's Farmers' movement and ongoing issues in the agriculture sector. The film will now go on the road to be screened at multiple locations and in many cities while applying to film festivals and documentary awards.
A special thanks to guests who took out time to attend the film premiere including MP Brad Vis, MLA Pam Alexis, UFV sponsors Dr. Garry Fehr – Associate Vice-President, Research and Graduate Studies, Rod Hayward, President of the UFV Union and Dr. Sylvie Murray, the Dean of College of Arts.
Social activists who participated in the movement in Canada, Mo Dhaliwal, Raji Aujla and Ravina Toor presented ideas and answered candidly as they fielded questions from the audience.
To view photos of the screening: https://flic.kr/s/aHBqjA4x2x
To show a screening at your workplace or organization please call us at 604-854-4547 or email at sasi@ufv.ca