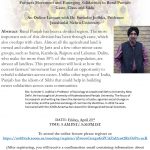 As part of the lecture series on Caste at SASI – Dr. Surinder Jodhka, Professor of Sociology at the Centre for Social Systems, presented his ground breaking and important research on April 23rd, 2021.
The lecture, as described by SASI Director Dr. Satwinder Kaur Bains, is part of the SASI's ongoing and meaningful commitment to "undertake the work of dismantling caste as part of our daily practice and research."
The lecture focused on the historical roots of how rural Punjab had always been a divided region but at the same time it had been the entry point for invasions into what is modern day India and was a symbol of strength in terms of sowing the seeds of cultivation, border security and multi-faith spiritual script writings.
Dr Jodhka's talk shed light on the most important axis of this division – through caste, which also overlaps with class. According to Dr. Jodhka, "the majority of the agricultural land is owned and cultivated by Jatts and a few other minor caste groups, such as Sainis, Kambojs, Rajputs and Labanas. Dalits, who make for more than 30% of the state population, are almost all landless."
Dr. Jodhka's presentation connected the audience to the current situation with the ongoing Farmers Protest which has provided an opportunity to rebuild solidarities across different castes and classes. Unlike other regions of India, Punjab has the idiom of Sikhi that could help in building newer solidarities across caste communities and opportunities to reflect on the role different castes in farming in Punjab villages.
Dr. Jodhka evoked the context of Sikhi becoming very important through the phrase of "Sarbat da Bhala." According to Dr. Jodhka, these socio-political movements bring moments of "being" and also open platforms for "becoming."He hopes that there will be a start to an open and fearless dialogue for reconciliation while people are sitting in the panchayats or under the tents at Delhi borders.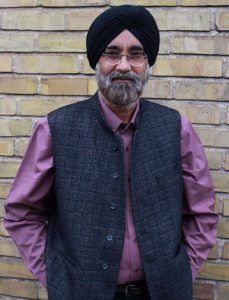 Dr. Jodhka's forthcoming book, titled: Oxford handbook of Caste in the Modern Worldis releasing in 2021 from Oxford University Press. His recent publications include India's villages in the 21st Century, published by Oxford University Press in 2019,  and Mapping the Elite: Power, Priviledge and Inequality also from Oxford University Press in 2019. He is the editor of the Routledge India book series on 'Religion and Citizenship,' and is among the first recipients of the ICSSR-Amartya Sen Award for Distinguished Social Scientist in 2012.
To listen to the full presentation, please click on the link https://youtu.be/13tuRQNRJvM