Due to COVID restrictions SASI's annual symposium related to the South Asian diaspora was a zoom conversation. The symposium featured a keynote address by noted scholar Dr. Suraj Yengde followed by a Q&A moderated by SASI Director Dr. Satwinder Kaur Bains.
Dr. Yengde, a Senior Fellow at the Harvard Kennedy School is author of the bestseller "Caste Matters" which was recently listed as "Best Non-Fiction Book of the Decade" by The Hindu. Suraj is also co-editor of "The Radical in Ambedkar Critical Reflection" published by Allen Lane, 2018. Suraj is India's first Dalit Ph.D. holder from an African university. He curates a widely popular column "Dalitality" covering caste related issues for the Indian Express. He is a human Rights attorney, who is also an anti-caste and anti-racism advocate. He has been an ongoing contributor to the Columnist at The Huffington Post, Hindustan Times, LiveMint, The Mexican Times, and The Conversation.
In his talk Dr. Yengde looked at the kinetic sources of caste and its porosity among the diasporic Indian society. The ambiguity of caste identity was so ingrained in the habits of 'lower castes' diaspora that it was left to forgetfulness. However, the cultures and lived realities of oppressed caste groups remained intact in their worship, eating habits and intermarriages among others.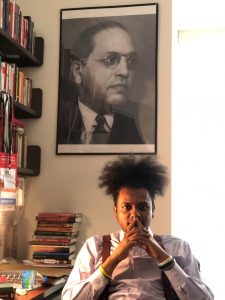 The ongoing interest around issues of caste in the diaspora resulted in a large response and symposium turn out. The SASI will be engaging in a three year long plan to embed caste conversations in their work through various programming and research.
The symposium was co-sponsored by Poetic Justice Foundation, Chetna Association of Canada and the Hari Sharma Foundation.
The link to the youtube video to watch Dr. Yengde's presentation can be viewed by clicking here.