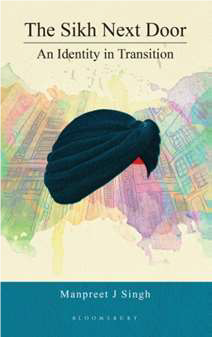 The South Asian Studies Institute (SASI) was pleased to be part of the online book launch of its Senior Research Fellow, Dr. Manpreet J. Singh's book, The Sikh Next Door: An Identity in Transition published by Bloomsbury Academic, India on October 21, 2020.
The SASI has a working partnership and MOU with University of Mumbai through its established Indo-Canadian Studies Centre (ICSC) since 2012. Dr. Manpreet J Singh visited the SASI in 2016 based on a joint fellowship from ICSC Mumbai and SASI UFV and worked on the Sikh Diaspora in British Columbia. This fellowship paved her way for this book when she met with community members to conduct her research through personal interviews as well as through diverse site visits. She also went through the narratives of the social history of Canadian Sikhs living in British Columbia.
Dr. Manpreet J. Singh narrates on the basis of her personal experiences and research, that Sikhs have been a people in transition. There have been unwanted displacements, willing movements and a changing world have led then through demographic, occupational and experimental shifts. Her book, The Sikh Next Door: An Identity in Transition traces these changes while also making an inclusive analysis of old stereotypes – some heroic, some menacing and some farcical. This book attempts to reframe the Sikhs, bending a few existing narratives and offering an impetus for a more nuanced understanding of the community.
Dr. Kanwal Singh Neel from Simon Fraser University, B.C., Canada moderated the book launch which was hosted by CoHaB, the Indian Diaspora Centre in partnership with Indo- Canadian Studies Institute, University of Mumbai.
About the Author: Dr. Manpreet J. Singh did her M.Phil. in English from Guru Nanak Dev University

and PhD in English from Mumbai University. She has taught in various institutions, most recently at Mata Sundri College, Delhi University. The Sikh Next Door: An Identity in Transition, published by Bloomsbury Academic, India. She has two previous books to her credit – The Golden Arc, a collection of poems and Male Image Female Gaze: Men in Shashi Deshpande's Fiction. The book launch was organized by Indo-Canadian Studies Centre and Indian Diaspora Centre (CoHaB), University of Mumbai and SASI.