SASI Director, Dr. Satwinder Kaur Bains co-edited the newly published monograph from UBC Press titled Unmooring the Komagata Maru: Charting Colonial Trajectories. The book was co-edited by Dr. Rita Dhamoon (UVic), Dr. Davina Bhandar (Athabasca) and Dr. Renisa Mawani (UBC). Satwinder's chapter, titled "The Resistance of Indian Migrants: Facing Lies, Deception, and Racism" is included in the book.
From the UBC Press website: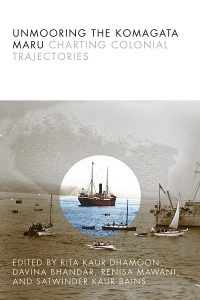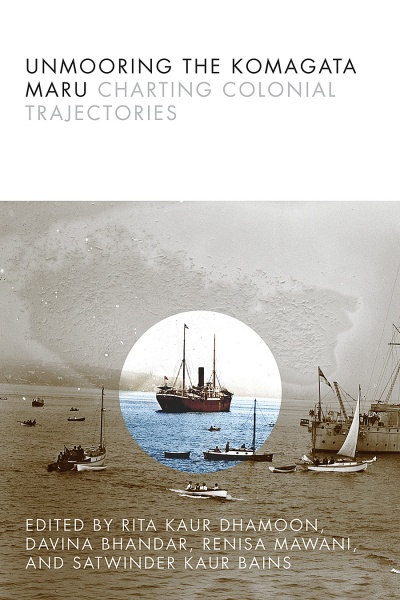 "Unmooring the Komagata Maru challenges conventional Canadian historical accounts of the incident by drawing from multiple disciplines and fields to consider the international and colonial dimensions within the context of political resistance, migration, cultural memory, and nation-building. Drawing from various disciplines, the collection situates the history of South Asians in Canada within a larger global-imperial history, emphasizing the ways in which the Komagata Maru incident is related to issues of colonialism.
The contributors offer not only nuanced interpretations of the ship's journey but also a critical reading of Canadian multiculturalism through past events and their commemoration. Ultimately, they caution against narratives that present the ship's journey as a dark moment in the history of an otherwise redeemed nation. Unmooring the Komagata Maru demonstrates that, more than a hundred years later, the voyage of the Komagata Maru has yet to reach its conclusion.
Scholars and students of postcolonial studies, transnational studies, Canadian studies, South Asian studies, Canadian history, politics, sociology, and critical ethnic studies will find much to interest them in this book. It will also find an audience within the South Asian diaspora."
A copy of the book can be purchased by clicking here.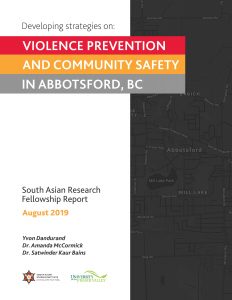 The SASI has also published its report "Developing Strategies on Violence Prevention and Community Safety in Abbotsford" which is based on the South Asian Research Fellowship working team. The aim of this report is to provide agencies, individuals and groups concerned with community safety with a deeper understanding of the issues as they undertake innovative and targeted approaches to prevent gang related violence.
The work (consultation) undertaken in this report provides a focused approach to understanding violence prevention strategies aimed at South Asian Canadian youth that have been implemented in the Abbotsford region. Recommendations made in this report help us support continuing efforts for engagement, dialogue, backing, and commitment to make our communities safer. As well, they allow us to gain a better understanding of what more needs to be done.
SASI Faculty Associates Publications:
Dr. Jon Thomas, UFV's BC Regional Innovation Chair in Canada-India Partnership Development has two recent publications. The first article titled "Impact of regional systems of innovation on the formation of university spin-offs by biomedical star scientists" has been featured in the International Journal Entrepreneurship and Small Business Vol. 37, No. 2, 2019.
The second article titled "Market entry strategies for electric vehicle start-ups" has been featured in Journal of Cleaner Production.