The Centre for Indo-Canadian Studies welcomed Mr. Mohammad Sohail in the winter semester, 2014 to engage in secondary source research for a five week period. Sohail worked under the guidance of Dr. B.S Ghuman of Panjab University, Chandigarh, who is a Senior Faculty Associate and a colleague of the CICS. We sat down with Sohail to ask him about his project and his experiences thus far here at the University of the Fraser Valley: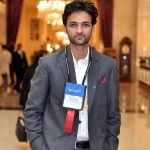 Please tell us your name and your University affiliation?
My name is Mohammad Sohail. I am studying at Panjab University, Chandigarh, India.
What is your current program of study?
I am a Junior Research Fellow in the Department of Public Administration, Panjab University, Chandigarh, India and pursuing my Ph.D. there. I am working on analysis of regulatory mechanism in higher education in India.
What are you studying/researching here at UFV?
I have been selected by the Shastri Indo-Canadian Institute (SICI) New Delhi/Calgary under its  2013-14 Student Mobility Programme. I have got the affiliation from the Centre for Indo-Canadian Studies to work on my selected research proposal, the title of which is Regulation of Higher Education in Canada with Special Reference to British Columbia under the supervision of Professor Satwinder Kaur Bains, Director CICS, UFV.
Studying the model of the regulation of higher education followed in other countries is of immense use in India. The present regulatory mechanism of higher education in India is expected to experience a drastic change. The two important reports on higher education in India namely, the National Knowledge Commission in its 'Report to the Nation (2006-2009)' and Yash Pal Committee in its report titled, 'Report of the Committee to Advise on Renovation and Rejuvenation of Higher Education' have strongly recommended to review the existing regulatory mechanism in higher education and replace it by an independent regulatory authority. It is relevant to mention here that at present there are about 17 regulatory bodies which regulate the higher education sector in India. The Government of India has also moved a Bill in the Parliament to set up an independent regulatory commission namely, National Commission for Higher Education and Research (NCHER). The Commission shall perform functions to promote higher education and research. The Commission shall promote the autonomy of higher education institutes and also the accountability of regulatory mechanism.  At this juncture, lessons drawn from model of regulation of higher education can provide useful planning inputs for revamping regulatory model of higher education in India. It is within this backdrop that my present proposal to study the regulation of higher education in Canada with special reference to British Columbia was conceived.
What has your experience been like so far here at the Centre and UFV?
Until now I have only spent a few days in the campus. And based on my short stay at UFV besides being a beautiful campus, I found the campus very friendly when it comes to healthy education environment and is a right place to term as a learning temple. I had a short visit to the library of the UFV and it is indeed very well organized. I have one month left to explore more about the campus of UFV and I am looking forward to it. Right now I can say I feel privileged to be here.
What are you future plans/ambitions?
In the future I am looking forward to further pursuing my research interests in the field of Public Administration and Policy Sciences and would love to join teaching in this arena.
Is there any particular achievement in particular that you're very proud of?
I have also got an opportunity to visit Washington, DC to attend the 2014 annual conference of the American Society for Public Administration (ASPA), USA that was held in Washington DC from March 14-18. I had also been selected by the ASPA as one of its Founder Fellows to participate and present my selected subject matter paper in the 2014 annual conference. As a Founder Fellow, I also took part in the 75th Birth Anniversary celebrations of the ASPA. This opportunity has added more exposure to my academic and research career and I am very grateful for it.