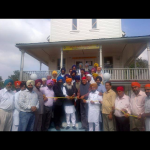 The Sikh Heritage Museum unveiled its fifth official exhibition on Sunday, September 8th. The exhibition, titled: Ghadar: 100 Years Later, commemorated the Ghadar Revolutionary Centennial.
In the early part of the 20th century, newly arrived Indian migrants living in British Columbia and the westcoast of the US faced public and institutionalized racism and discrimination. Meanwhile India had been subjected to over one hundred years of British Colonial rule. In June, 1913 a meeting of minds occurred in Astoria, Oregon under the guidance of Sohan Singh Bhakna and Lala Har Dayal to form the Hindu Association of the Pacific Coast which would later be known as the Ghadar (mutiny) party. The aim of this party was very simple – to advocate for an independent India. This was done mostly by gathering intelligence, by inciting the passions of those in the Diaspora through the power of the word and through the power of print. And it was through this power of print that the Party was able to ignite such passion. The main newspaper for the party was the Ghadr newspaper which printed its inaugural issue on November 1, 1913.
The crux of the Gadhar movement lasted for about six years from 1913-1919. There was no mass rising in India as expected by Gadharites. Out of the 8000 estimated Gadharites who left for India to 'fight' for independence, 3000 were intercepted, 300 were jailed and most of the others were confined to their villages. However, what the Ghadar movement was able to accomplish in such a short period of time was no small feat.
To commemorate the Ghadar movement, the Sikh Heritage Museum highlighted key Ghadarites and their stories in the first part of the exhibition with the second part displaying newspaper articles from the Vancouver Daily Province igniting fears and paranoia about "sedition" mongering and Indian revolutionaries. The first part of the exhibition also displayed some replicas of primary documents, including Ghadar pamphlets, articles, etc., as well as a powerful display of Shaheed Bhagat Singh. The theatre room of the Sikh Heritage Museum highlighted Abbotsford's own Ghadari Baba Karam Singh Daulutpur, the female Ghadarite Mata Gulaab Kaur and Baba Bhagat Singh Bilga.
The exhibition was well attended and well received by the community. The  exhibition will be available for viewing until January 24, 2014 and the Sikh Heritage Museum is open seven days a week from 10am-4pm.