Denice Power always knew in the back of her mind that a career in a dental office was the right fit for her. The only regret she has is not pursuing her dream of becoming a Certified Dental Assistant earlier.
"I wanted to do this program when I graduated from high school 20 years ago, but life took me in a different direction. I remember going to the dentist as a kid and thinking it was a friendly environment that I wanted to be part of," says Power.
Helping people smile
While a stay-at-home mom, Denice upgraded her high school science credentials and when her kids turned age 11 and 7, she immediately enrolled in UFV's Certified Dental Assistant program. She felt driven to finally pursue her dream of working in a dental office, and knew UFV was the place to start.
"I love working with people and I have a strong need to help others," she says. "I wanted a career that was dynamic and where I could connect with people."
Job security in a demanding field
The Certified Dental Assistant program is a 10-month certificate designed to provide students with opportunities to develop the knowledge, skills, and attitudes necessary for employment in a dental office.
The program combines lectures with clinical practice and two field placements in preparation for a career where certified dental assistants are in demand in private practice, dental clinics, or other public health facilities. The full-time practical experience was full filling for Power, and solidified her passion for a career towards helping people smile. "I knew after completing my first practicum that I could do this job. The practical experience allowed me to strengthen the knowledge I learned in class and made me feel confident," she says.
A career as a Certified Dental Assistant offers a range of opportunities that include part-time and full-time positions in private practice, group practice, and specialty practices.
The right fit
Karen Klenk, UFV's Certified Dental Assistant Coordinator stresses that UFV graduates are highly sought after by employers and many graduates often solidify employment prior to program completion. "Currently the job market for Certified Dental Assistants if very favourable and we receive consistent feedback from both graduates and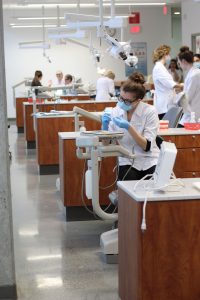 employers that our program produces quality graduates who are well prepared for entry to practice," she says.
Because UFV's Certified Dental Assistant program is accredited by the Commission on Dental Accreditation, graduates are eligible to write the National Board Exam and then register with the College of Dental Surgeons of B.C. "UFV graduates typically score higher than the national average on the national Board Exam," notes Klenk.
Students gain extensive in-class clinical knowledge during the program in a state-of-the-art dental lab that includes a sterilization and trimming room. Students begin by practicing their skills on mannequins before inviting the public into the clinic to carryout X-rays, fluoride application, sealants, polishing, and oral hygiene education.
"I didn't think twice about choosing UFV's Certified Dental Assistant program. I wanted to study and graduate from a highly-reputable university with instructors who are knowledgeable of the field of dental assisting," says Power. "UFV was the only option in my mind."
Learn more about the Certified Dental Assistant program at the University of the Fraser Valley.