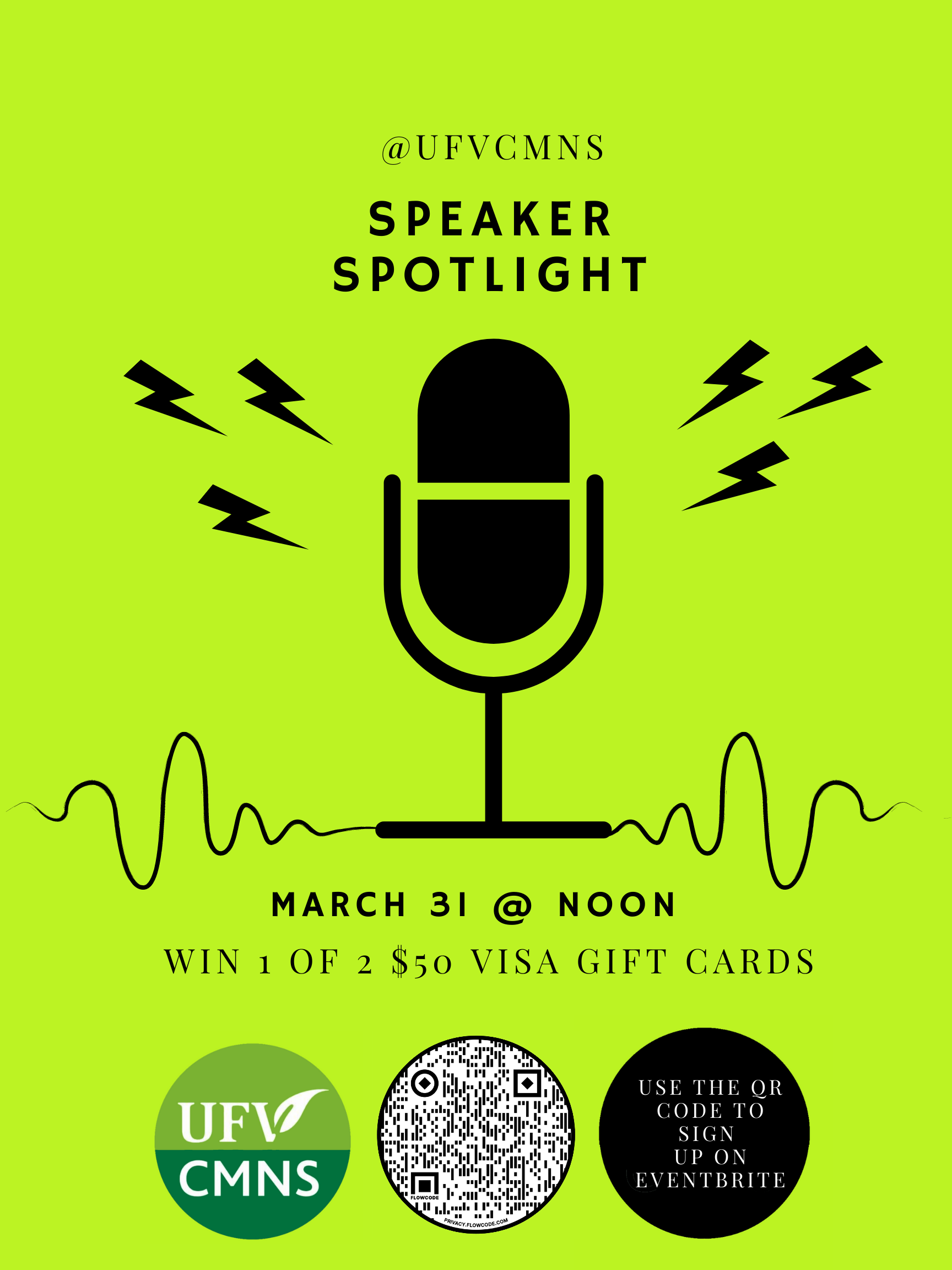 Head to the Communications Speaker Spotlight on March 31 at noon to hear industry experts from Jelly Marketing and the Fraser Valley Regional District talk about the role of communication in the workplace. Former students Lise Nehring and Maaria Zafar join current students Addy Schnider and Perry Mills to discuss the skills they learned in the Communications minor program. Attendees have the chance to win one of two $50 gift cards.
Scan the QR code or click the link to sign up at Eventbrite.
SPEAKERS:
Angelique Crowther is Manager of Communications at the Fraser Valley Regional District, a local government serves residents in the Fraser Valley. Angelique is an experienced communications professional working primarily for the public sector, Angelique has served at the University of British Columbia, Vancouver School Board and abroad with the Cayman Islands Government. Angelique is particularly experienced and interested in public engagement and emergency management.
Sarah Clark is a Partner and Director of Operations and Personnel at Jelly Marketing, a full-service digital marketing agency located in Fort Langley. With a background in event management and marketing from UFV and Mount Royal University, Sarah uses her experiences from the last decade to ensure that Jelly performs at its best each and every day.
Lise Nehring is on her journey towards her Masters in Biology. She sees the crucial role of communication in translating scientific knowledge to everyday settings for maximum results.
Maaria Zafar is a criminal justice student but also one of our active communication minor students. Maaria has taken note of how communication has benefited her academically and professionally and is here to share with us her notes.
Addy Schneider is the President of UFV Enactus Club, a communication minor student who is currently taking some of our upper-level communication courses. She believes having effective communication skills allows better information sharing and network building.
Perry Mills is working toward his Bachelor of Arts degree with a minor in Spanish, business, and communications. He says that communication is integral to all aspects of life, from relationships to work, and everything in between. He hopes that others might also find a passion in learning how to express their thoughts and knowledge.