GUEST BLOG by Maxina Spies for UFV's Centre for Social Research
On March 26, 2019, University of the Fraser Valley students from a variety of faculties presented their research findings with posters and mini-lectures at the annual Student Research Day in Evered Hall on the Abbotsford campus. Several individuals and teams presented projects related to social research and won awards for their outstanding work. We are proud to highlight them here.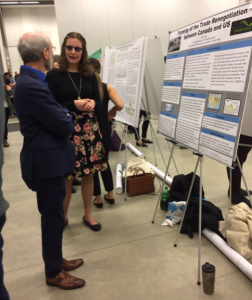 Among the winners was Erin Haan, a second year student minoring in Communications, who was awarded the $200 Associate Vice-President, Research, Engagement & Graduate Studies prize for her research on "Media Framing of the Dairy Industry in the Canada/US Trade Renegotiation," supervised by Communications faculty member and Centre for Social Research affiliate Dr. Marcella LaFever. As part of her Professional Research Report Writing class, she looked at the framing of the new USMCA trade negotiation, with a focus on the dairy industry because of her own experience working on dairy farms for over six years. Erin also has taken a dairy certificate program, which helped her interpret her research on how Canadian and American newspapers framed the dairy conversation during the 2018 free trade negotiation. She stressed that "media outlets have had a large impact on the renegotiation issue by presenting particular points of views," and that "biased headlines can cloud the public opinion on the renegotiation."
Nursing student Christine Drew, supervised by Professor Shelley Canning, won the $200 Dean, Faculty of Health Sciences Award for her research titled, "Exploring the understanding and comfort levels of nursing students with Medical Assistance in Dying (MAiD)." Christine's research flowed out of a directed studies research course in the nursing program and her recognition of the layers of ethical and practical challenges for nurses in relation to the recent MAiD legislation. Her research contributes to a small existing body of research on the topic and helps address these challenges. Christine said her research highlights that "comfort levels surrounding MAiD are very multifaceted and can be influenced by age, gender, work experience, educational levels and background personal beliefs such as religiosity."
Christine found that when she began the project, people would often ask for her opinion on MAiD, although she feels that the "opinion of the nurse innately shouldn't be considered for a patient requesting MAiD." This dichotomy intrigued her and spurred her interest in her research question. In reflecting on her research, Christine stressed that "it is vital that nurses reflect and be aware of their values and beliefs surrounding MAiD so as to provide impartial patient-centred care," which points to the importance of education for nurses on end of life care. Christine will be presenting this study in May at the UBC Graduate Nursing Student Association annual symposium, and will be graduating in June.
Psychology student Caroline Duncan won the $200 Dean, College of Arts – Social Sciences Award for her poster presentation on "Loneliness, Resilience, and Cognition of Older Adults." Duncan's research was supervised by Dr. Lesley Jessiman, a psychology professor and member of UFV's Centre for Education and Research on Aging (CERA). Dr. Jessiman's work with CERA has looked at issues related to improving quality of life for aging populations, researching ageism and higher education, and the effects of typical aging on emotional and cognitive functions. She points out that Caroline's research has is "particularly important given the growing older adult populations in the Lower Mainland, which is where the data was collected." As a mature student, Caroline shared about the relevance of her research to her own life as she cares for her aging father, who has "struggled with loneliness and loss of his resilience when faced with adversity later in his life." Caroline's interest in completing this project as part of her honour's thesis for her psychology degree grew after taking UFV's Adulthood and Aging course.
The research also connects to the intergenerational aspect of aging, because, as Caroline puts it, "We are all hopefully going to be given the opportunity to grow old in our lifetime, and loneliness does not align with our human nature." The chance to interact with participants and learn from their life experiences was a highlight for Caroline as she conducted her research. She hopes that this work pushes UFV to integrate a gerontology program for students. Dr. Jessiman hopes that the research "will help inform policy by identifying specific means with which to reduce levels of loneliness among our aging populations," which has been recognized by the World Health Organization as a significant factor in rising morbidity and mortality rates in older populations. Both researchers hope to continue a second phase of the study with semi-structured interviews of a wider sample set.
Business students Allan Les, Ford McMahon, and Simeon Gellert were awarded the $200 Vice Provost and Associate Vice-President, Academic Award for their poster presentation on "Crime Rates in Canada," supervised by Professor David Dobson from the UFV School of Business. As part of David Dobson's Economic and Business Statistics course, the team developed a research question focused on whether there is a correlation between a local police force and lower crime rates. The group focused on Surrey's expensive decision to switch from RCMP to a local police force. Based on a statistical analysis, the team concluded that there is a positive correlation between having a local police force and lower crime rates. Although this was a strong factor in reducing crime rate, they also found that socioeconomic factors played an even more significant role, stressing that, "In order to ensure continued decreases in the local CSI (Crime Severity Indexes), Surrey's City Council should continue their work to encourage post-secondary education, stable families, and economic development to provide well-paying jobs." Although this project was not directly related to the business program, Simeon Gellert stated that it was an enjoyable project and he hopes to work with Allan and Ford again in the near future.
We congratulate these students for their excellent contributions to social research which not only enriches the UFV academic community, but also has important applications in our wider communities.
For more information on the Centre for Social Research:
Website https://www.ufv.ca/social-research/
Twitter @4socialresearch https://twitter.com/4SocialResearch