University of the Fraser Valley students and graduates interested in careers as professional writers will be treated to some free advice from local writers next month. Members of the Professional Writers Association of Canada (PWAC) will be on the Abbotsford campus to talk about Writing for a Living.
Designed to help participants find the paths into professional writing, the March 12th evening event features panelists who will answer questions and network "speed dating-style" with writers who are just starting out.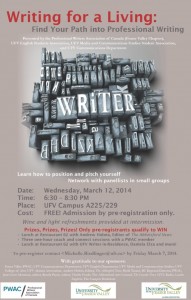 "We've all been there," said Lynda Grace Philippsen, President of Fraser Valley PWAC. "We all relied on mentors and know how important this is. Networking is a huge part of success as a professional writer whether you are beginning or established in your career. We're excited about the chance to work with UFV students."
This community-based event is a first for Fraser Valley PWAC but support for the event has been generous.
Lynda confirms, "The energy is great. Student organizations, the Alumni Association, and UFV Departments have come together with us to create the Writing for a Living event and provide sponsorship."
The Abbotsford News has also stepped up to offer its support to the event.
Since its foundation more than 25 years ago PWAC has welcomed student and associate members who receive most of the benefits of full membership without being required to meet the criteria for publication. Those benefits include a press card, mentoring, networking, references, professional development, information about job opportunities and much more.
"Students get all that for the price of one calorie-rich specialty coffee a month. Really, it's all win-win," notes Lynda. As an added bonus, students who are already PWAC members in the year that they graduate can continue their student membership at the student price one full year after graduation.
All students and recent UFV graduates who love writing are welcome to attend this event. This is your chance to "get lucky" and make connections with people who share your passion.
Date:     Wednesday, March 12, 2014
Time:     6:30 – 8:30 PM
Place:    UFV Campus A225/229
Cost:      FREE! Admission by pre-registration only. Wine and refreshments will be served at intermission.
To pre-register contact Michelle.Riedlinger@ufv.ca by Friday March 7, 2014.
Pre-registration prizes include:
Lunch at Restaurant 62 with Andrew Holota, Editor of The Abbotsford News
Three one-hour coach and connect sessions with a PWAC member
Lunch at Restaurant 62 with UFV Writer-in-Residence, Daniela Elza
….and more!