As 2021 comes to a close, UFV's Community Health and Social Innovation Hub (CHASI) is observing Human Rights Day with a look at the past year. A year ago we were all working remotely, and the timeline for mass vaccination still uncertain. Facing such an unusual year, we decided to focus some of our attention on a series of blog posts highlighting the meaningful annual observances that matched with our shared values. 
Human rights have been a running theme throughout those blog posts. CHASI's goal is to support the social, mental, emotional, physical, and economic health of those living in our communities, and ensuring the people in our communities have their human rights met is the very foundation of each of those facets of health.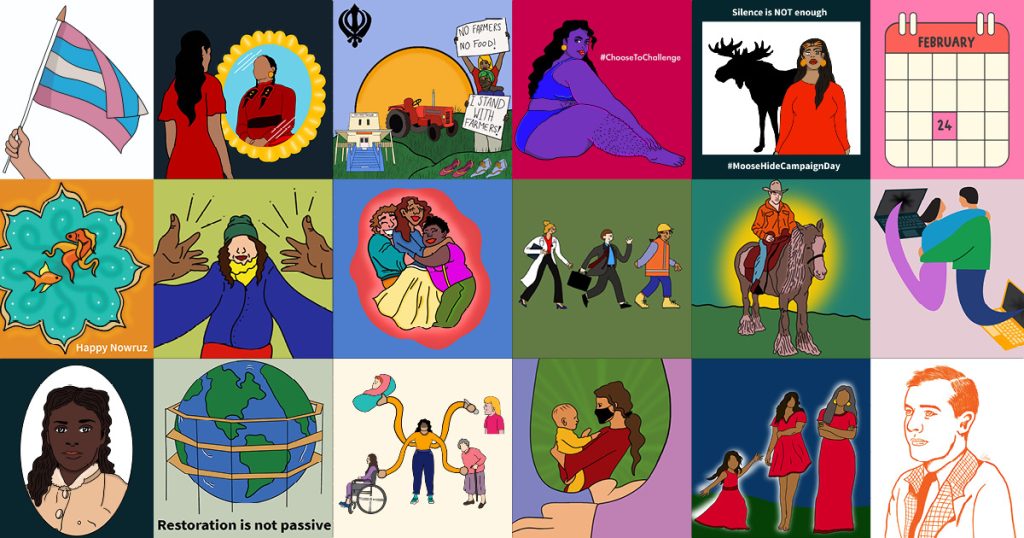 Over the year, we have approached these topics in a range of ways: whether sharing research, collaborating with expert guest writers, or simply presenting key information, the CHASI team has made every effort to cover a range of critical topics in an accessible, informative way. Over the course of 12 months, we've created 28 different posts marking a wide range of occasions. 
If you would like to see all of the posts in this series, and learn more about Celina Koops, the illustrator who brought so many of these posts to life, please visit our observances page. 
Going into 2022, the CHASI team is busier than ever on a wide variety of projects across the many facets of health that we aim to support, and we're excited to share that work with you in the coming months. To put even more energy into those projects, we are concluding our focus on observances, though we will certainly still be marking several through our social media channels.
All of us at CHASI would like to extend our sincere thanks to everyone who has helped make this year-long project a success: to every guest writer who has contributed, every expert who provided consultation, every member of the community who helped share our work, and everyone who has taken the time to read it. Thank you.