ABT grad (Brielle) working with ABT student @ABTChristaC on practicum in the College of Arts. @goUFV #ABTWebComms pic.twitter.com/s8tHQaSWQz

— Christine Nehring (@ABTatUFV) June 13, 2016
Semester End
The end of semester is always a busy time with many events such as the ABT Expo,  ABT awards and party event, and convocation. Our wonderful AB3 students are now enjoying practicum placements in many organisations in the Fraser Valley including school districts, municipalities, Correctional Service Canada locations, UFV and beyond, as the tweets from Christine show!
Borrowing CE's practicum students to clean L104. @sprinc3R & @aglendinning13 are good sports! #ABTWebComms pic.twitter.com/84YdGzz2hi

— Christine Nehring (@ABTatUFV) 6 June 2016
ABT Expo: A Trade Show Event not to be Missed!
In January 2015 we introduced a new course to the ABT Program: Web-based Business Communications. During this fast-paced, seven-week course, groups of students develop social media campaigns to promote their products, using Twitter, WordPress, and many other forms of promotion. We held the first Web Comms/ABT Expo in May 2015, and it has proved to be a highpoint for many students. Invited guests have commented on how professional, engaged, enthusiastic and eloquent students are about their products and the work they have done.
ABT Awards
As a way to celebrate all the hard work students have done, we have an award ceremony on the last day of classes and hand out certificates in many different categories, from Artistic Achievement to Mobile Communications. Below are photographs of the Winter 2016 class from the ABT Expo, and the award they received.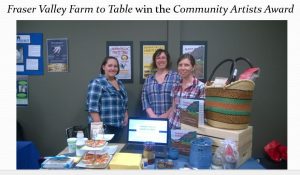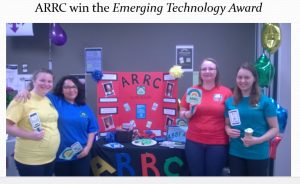 Convocation 2016
One our favourite times of the year is convocation. It is such an honour to be able to celebrate our students and their achievements in a public way, and it always a fun and moving ceremony. Congratulations to all our students; your hard work and persistence will serve you well in the future!
Looking to the Future
We are already preparing for our new students, and the next two cohorts will start in September 2016. Places are filling up fast, so if you are interested in taking the program (or know someone else who would be interested), you can find out more and how to apply on our UFV pages. Our next assessment is on July 15, 2016, so mark the date!
Your Favourite (ABT) Memory
Now we've shared some of our recent ABT highlights, why not share one of your favourite memories from ABT or something else you've done recently? The comments section is open, below.
Image Credits
First Twitter image from Christine Nehring taken by Deborah Grenfield, June 2016; used with permission
Second Twitter image from Christine Nehring taken by Christine Nehring, June 2016; used with permission
ABT Expo photos taken by Christine Nehring, May 2016; used with permission.
Convocation 2016 montage images taken by Mary Higgins, June 2016; used with permission.
Convocation stage image #1 from UFV's Flickr; https://flic.kr/p/HcztXs; June 2016; some rights reserved
Convocation stage image #2 from UFV's Flickr; https://flic.kr/p/HYJDaL; June 2016; some rights reserved