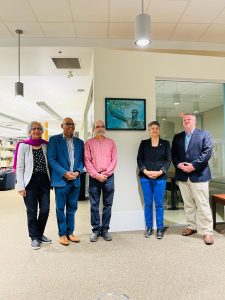 On Oct 14, in commemoration of Emancipation Day – the day that Dr. Bhimrao Ambedkar embraced Buddhism, the SASI and CHETNA organized a discussion on the annihilation of caste.
A painting of Dr. Ambedkar installed at the UFV library was unveiled in the presence of members of the community, Dr. James Mandigo, Acting President and Vice-Chancellor of UFV and MLA Mable Elmore. Artist Raghavendra Rao Karkala Vasudevaiah was honoured for his activist style painting whose goal was to inspire those that see the painting by Dr. Ambedkar's life.
Parliamentary Secretary of Anti Racism, Govt of BC, MLA Mable Elmore attended the event and shared her thoughts on discrimination based on caste in BC and how new anti-racist legislation will assist those who face caste discrimination.
Dr. Anne Murphy of UBC presented her oral history project on Dalit Stories that is ready for pubic history inclusion and is a tool for educators, researchers and community alike.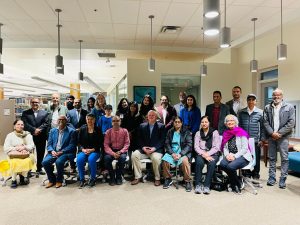 Mr. Barj Dhahan from the Dhahan Literature prized moderated a discussion with Jai Birdi from Chetna, Dr. Satwinder Bains, Dr. Priti Narayan of UBC and Manmeet Singh (UBC PhD student). The panel and moderator explored strategies to fight caste discrimination and processes that need to be developed in BC. The outcomes of this discussion will lead to collaborations and approaches that will affect all British Columbians and especially at post secondary institutions.
The event at UFV created space for commemoration, dialogue, future plans, and outcomes towards the elimination of caste discrimination while developing anti-casteist societies in BC.