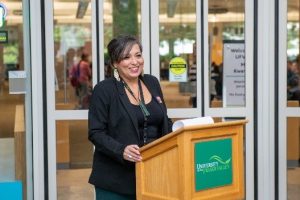 On September 19th, the SASI and UFV Library hosted a welcome back to campus event for students in the Library Rotunda that focused on creating an anti-caste UFV campus.
Artist Raghavendra K.V. Rao donated a painting of Dr. Ambedkar to UFV Library where it will serve as a reminder of our commitment to anti-caste work.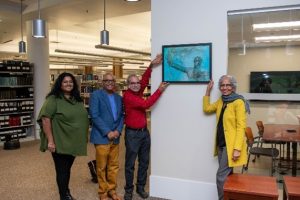 Jai Birdi of CHETNA presented a collection of Dr. Ambedkar's books that hold the speeches and writings as a donation by the Shri Guru Ravidass Sabha Ontario to the UFV Library so that Dr. Ambedkar's message would be passed on to future students.
Anita Lal of the Poetic Justice Foundation spoke about her extensive commitment to work as an advocate towards the elimination of caste oppression in our communities and as an anti-caste activist. And finally, Balkar Singh, recited poetry readings of fighting caste oppression which he donated to the Library to attach to the painting which will be hung in the library.
We wish all students a great school year and look forward to working with everyone on our anti-caste commitments.