The SASI is pleased to feature Mr. Landon Kaetler, a former student research assistant who has recently been accepted into TRU's law program. Landon proudly credits his experiences learned during his time at the SASI, and through its Director, Dr. Satwinder Kaur Bains, for his success. Read below about Landon, his research at the SASI, and his future goals: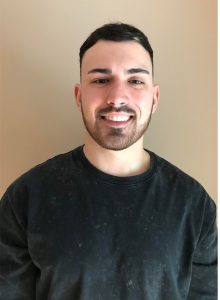 When did you work for the SASI?
I worked for the South Asian Studies Institute (SASI) during my final semester at the University of the Fraser Valley in Winter 2020.
What projects did you work on?
One of the projects I worked on was the South Asian Canadian Youth and Violence project. I gathered local news articles to investigate for bias in the reporting connected to the Lower Mainland gang conflict. The other research project involved an assessment of sports-based crime prevention (SBCP) programs in British Columbia. I assisted SASI by contacting various organizations and searching for other relevant information to create a preliminary inventory of SBCP programs.
What things did you learn, or were beneficial to your educational experiences while at the SASI?
It was incredibly humbling participating in on-campus research as a research assistant. I care very much about my community and the University of the Fraser Valley. It was special being able to draw from the knowledge and skills I acquired throughout my studies and contribute to these projects in my final semester. I was able to gain further insight into some of the features of media bias and the structure/layout of sports programs versus sports-based crime prevention programs. The collaborative atmosphere and close support of SASI and its partners made this a memorable experience.
What will you be doing next and what do you hope to do in the end career-wise?
I have recently been accepted into the law program at Thompson Rivers University and will start school in September 2022. Until then I plan to work and search for a new pair of hearing aids to assist me in the classroom. I have not decided yet on which area of law I would like to practice although my interests are centred around criminal law, constitutional law, and disability/human rights law.
Any words of motivation for current or future SASI students?
Follow your instincts, get involved, and most importantly have fun. I am confident that you will enjoy your time working for SASI and trust you will do wonderful things.