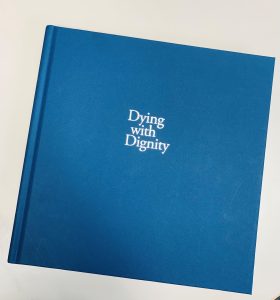 The SASI was the lead researching institute and coordinator for a newly published book titled Dying with Dignity which is a detailed history of the first crematorium built in the Fraser Valley (Abbotsford) under the auspices of the Fraser River Community Crematorium Society (FRCCS).
Founding board members and local community members, Mr. Manjit Sohi and Mr. Gordon Brar approached the SASI in 2019 in creating a historical record of this important moment in South Asian history in the Valley. After years of interviews, digitizing, and collating of meeting minutes, documents, etc., the book was printed in 2022. The history of cremations in the Valley is deeply rooted in stories of racism – whereby Punjabi and Hindu settlers in the early 20th century were forced to cremate in secret in open forest spaces to avoid attacks of violence from white European settlers in that time. These stories, as mentioned by Mr. Manjit Sohi, proved to be a source of motivation in the long community struggle for the building of its own crematorium space.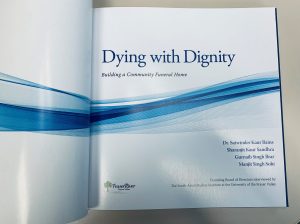 A book launch is being planned for Spring 2022.
For more information please email contact@frccs.com.