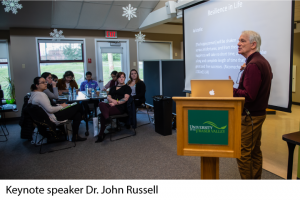 On January 4, 2019, sixty students nominated by departments in the College of Arts attended a one-day symposium focusing on Building Resilience for Leadership. These future community leaders embody the vision of education in Arts: critical thinking, creativity, communication, and collaboration. A dedicated team of faculty and staff in the College of Arts created the first in what is planned to be an annual symposium to provide support for growth in student leadership.
Keynote speaker, Dr. John Russell (Philosophy instructor and Research Ethics Board chair at Langara College) spoke on the topic of resilience. The day consisted of three breakout sessions, with participants assigned to groups and attending each of the sessions. The session on Non-Violent Communications was led by UFV faculty member and Peace Studies chair Dr. Steven Schroeder; Emotional Intelligence was led by Angela Low from the Dalai Lama Centre; and Mindfulness was led by UFV faculty member Dr. Christine Slavik.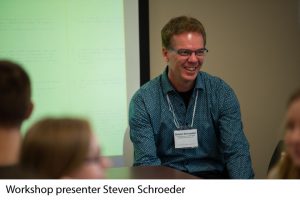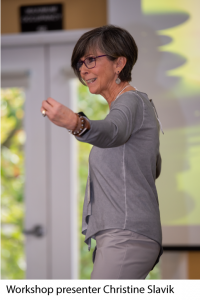 At lunch, UFV Alumni panelists Sukhi Brar, Flora Oswald, Ali Siemens, Priya Sharma, Prince Dhillon, and Cody Lucas-Dumas provided insight on leadership and resilience in diverse contexts, and related their personal experiences back to how current students can grow their leadership abilities.
The focus on personal resilience, which is core to the development of mindful leadership, was embraced by those in attendance.
"What an amazing event and turn out. I enjoyed participating on the panel; it was quite an impressive group of people and the audience was thoroughly engaged. Glad I could be a part of it," said a panelist.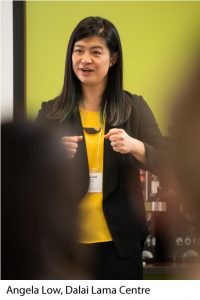 "I am still blown away that the leadership of a university invested heart and time towards creating a full day opportunity for student leaders to learn about being resilient, and caring for themselves. It speaks volumes about how much you see and care for your students as individuals, I wish we saw this more often. And, I was so touched by the panel of remarkable young people you assembled at lunch – what amazing role models to have, and what clear stories of the gift of supportive relationships," said Angela Low.
Student attendee testimonials:
"A good opener to understand that failures aren't necessarily bad"
"Learned that violence is not just physical and verbal, it's much more"
"I wish more people could learn about this [conflict resolution]"
"Wish I knew more mindfulness 'tools' that I can use anywhere at any time"
The organizing team for this symposium included department heads Adriana Bakos (History), Amanda McCormick (Criminology), and Wayne Henry (Philosophy), along with Elaine Newman (Director of UFV's Advising Centre), and Jacqueline Nolte (Dean of the College of Arts). Chris Leach (History) was the event's photographer. Staff members Nicole Kungle (History) and Cecelia Dirksen (Modern Languages, Philosophy, Political Science) managed all event planning and organizational aspects; department assistants Cherish Forster, Tracy Porter, Karmin Gray, and administrative assistant Lisa Matty were in attendance on the day to handle questions, technical issues, and other emerging needs.