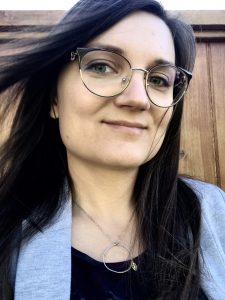 Judy Larsen is an associate professor in the Upgrading and University Preparation department who recently earned her PhD. Judy mainly teaches ABE mathematics courses, but she also teaches courses for the Teacher Education program and the Mathematics and Statistics department.
Judy has been recognized for her creative approach to teaching mathematics with an award from the Society for Teaching and Learning in Higher Education (STLHE), in partnership with D2L (formerly Desire2Learn).
Larsen was one of four recipients of the 2020 D2L Innovation Award in Teaching and Learning. Selected from an international pool of applicants, the award recognizes educators who are redefining the learning experience of students through innovative approaches that promote student-centred teaching and learning.
Obviously Judy has had to change and adapt some of her teaching methods due to COVID-19. I reached out to her and asked her to reflect on the many challenges that have surfaced during the pandemic and to share her plan as she moves forward into the fall semester in an attempt to maintain, and even build on, the amazing success she has had in the classroom as it transitions into a virtual environment.
Part of what my innovation recognized by the STLHE innovation in teaching award hinges on is the amplification of person-to-person interaction in the classroom, which in turn builds a strong learning community in the classroom and provides students with opportunities for explaining course concepts among peers. As such, the COVID-19 pandemic has brought on new challenges in adapting the strategies I know to work in a physical setting into the online space. The lack of physical interaction is most definitely a hurdle, but when thinking about exactly why this is the case, I am becoming more and more convinced that it has to do with the ease of communication. When I teach in the physical space, I can have students use the whiteboards in the room in small randomized groups of 2-3 students, where they can communicate mathematical ideas either through gestures, a whiteboard pen to draw or sketch ideas, or through verbal descriptions. Since mathematical language can be quite rigorous and technical, having multiple modes of communication that support student interaction without having to use that language right away supports their willingness to attempt explaining their ideas to peers without a great risk for being shamed or criticized for their thoughts. The proximity they could have in a physical space prior to COVID-19 was also influential in allowing for the mobility of knowledge around the room. Within the smaller pool of peers, they could hash out ideas without being embarrassed, all while seeing what other groups were doing on the other vertical whiteboards. This created a sort of synergy in the room that led to the emergence of new ideas. Not only were they able to collaborate meaningfully and in multiple modalities, they were also socially supported. This is because the other aspect of my teaching practice was focused on developing strong morale and a network of peer relationships in the room. To this end, I spent time in the class to check in about emotions and perspectives student had towards mathematics. Students were able to realize that they were not the only ones with those same emotions. Or, at least, they could have empathy towards what other students were feeling. I also promoted norms of resilience and growth mindset thinking, which helped ease students into a willingness to be vulnerable with their thinking, that their thoughts could be tentative, and that revisions were part of the learning process.
When we moved into a fully online environment, there were many limitations I found myself noticing right away. This made me quickly realize that my teaching strategies did not all directly import from the physical space into the online space. I first started by carrying over the synchronous meetings into the Blackboard Collaborate Ultra environment. Aside from dealing with connectivity issues and availability of technology on the part of students, we managed to be able to meet during the last couple weeks of the term. In that time, I almost immediately noticed how much I depended on non-verbal cues to guide my teaching decisions in the moment. As soon as we were in the online environment, many students chose to shut off their cameras and microphones, and I felt like I was talking to myself. Perhaps this will improve in the Fall when I can start fresh with a new group. But based on the time we had at the end of the Winter term to complete the courses while everyone was dealing with the transition, tuning out seemed to be a prominent coping mechanism. Students became more distant, and it was fascinating to observe how such a strong collaborative classroom culture that had developed in each of my three synchronous classes collapsed when imported into the online environment. I realized in that moment how much of my teaching depended on the non-curricular social fabric that had developed in the physical space in which we met on such a regular basis. This motivated me to pursue a small research project on the cultural transposition that occurred between the face-to face part of the term and the online part. I am in the process of surveying students about their experience of moving online. While I am still in process of data collection and analysis, I am already realizing some things based on preliminary review of the responses, which is helping me structure what I can do differently when beginning my classes in the Fall term.
First, I know I need to find ways for students to develop a social fabric in the class so that they gain trust and the capacity to be vulnerable enough to ask questions and propose thoughts perhaps in less technical language than they may think is necessary. To achieve this, I want to incorporate opportunities for small group meetings that will allow students to discuss ideas around low-stakes prompts that are perhaps not so heavily focused on content, but that tap into their perspectives towards the subject matter. Second, I know I need to create opportunities for students to succeed without a risk of feeling ashamed. This can be challenging, but I aim to do this by starting with easier tasks and moving into more challenging ones after some successes are felt. And finally, I believe focusing on opportunities for students to interact is important. When we communicate our ideas is when we really know we have learned something, and it is sometimes in this communication that we learn what we know or do not know. Perhaps part of this would involve developing a process for outcomes based assessment that allows students to provide evidence of what they know or do not know from the course content, and gives them a chance to do this in various modalities (e.g., pictures of work done on paper, short videos, informal virtual meetings, etc.). At this point, my focus is on making sure personal perspectives on the material can be shared, that students can feel successful in the environment, and that opportunities for communication through different modalities is supported. However, I know that based on how the last few weeks of the Winter term went, I have a lot of rethinking to do.
Some of the specific adaptations I can already anticipate will involve: using shared collaborative tools such as aww app, Google Jamboard, Google Sheets, and others to support small group work when students are in breakout groups, making group sizes a bit bigger than I would in a physical space to allow for more diversity of ideas (4-5 per group instead of 2-3), making time for personal reflection and empathetic check-ins between students, and involving outcomes-based assessment strategies with student choice around representation of ideas. Many of these thoughts are transformations of teaching strategies I have already employed, but I am finding that not all strategies transfer directly to the online space. I look forward to developing a more refined perspective after the Fall term. I believe that the silver lining of everyone moving into the online space in the Fall term is that the benefits of the physical space will be that much more obvious, that more of us will be using the online tools and therefore can have better chances of collaborating meaningfully between each other, and that we may learn more about the teaching approaches we already use and why we use them. In this time for reflection, I believe gaining perspective is the biggest asset. However, this is hard work, and I am sure those of us who are trying new things will experience a much greater workload than ever before. I hope that anyone reading this will consider the importance of being kind to ourselves in this time of transition and development.
Submitted by Guest Blogger, Dr. Judy Larsen, Associate Professor, Upgrading and University Preparation
Thank you so much Judy for sharing your experience with us. It is evident that you have worked incredibly hard and just when you thought you could relax, you are faced with another huge learning curve. But I know you are up for the challenge because as your teaching philosophy so appropriately states, "As I teach, I learn; as I learn, I teach." Good luck in the fall semester, and know that your HR team is always here to support you in any way we can!