Across Canada Challenge – June 22-30 Update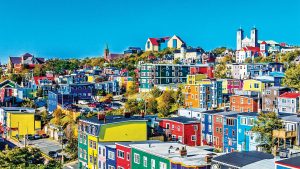 Walk with us. In our Across Canada Challenge we have walked over 3,000,000 steps, which is almost to the Ontario border! Get moving today as we go for our final push before June 30.
This week we are working on our fourth and final leg from Grand Falls, NB to St. John's NFLD which is a long one 2,738,845 steps = 2087 km. Haven't joined in yet? You can start anytime! See below for information or just out here on the UFV Unite Facebook group page.
What is the Across Canada Challenge?
Over the month of June, we are challenging the UFV staff & faculty community in our Across Canada Challenge. We encourage you to participate in this collective virtual trek across Canada via the Trans Canada Highway, which is 7,821 km long, equaling approximately 10,000,000 steps.
Our goal is to cover the distance between Victoria and St. John's as a collective community, to reach a total of 10,000,000 steps over the month of June. With the help of the ParticipACTION app we will be tracking our steps and converted activity minutes. Since we can't stray too far from home right now, throughout the month we will be providing "scenic" views and Canadiana inspired tips and activities to motivate you to see how far we get before its time to celebrate Canada Day.
Check back each week for motivational contests and Participants of the Week prize winners as well as at the end our furthest step champ! As an added bonus, we will be competing against students to see how far each group gets as they too will be virtually trekking across Canada with us.
Here is how you can participate!
Download the ParticipACTION app on your smartphone (if you haven't already!) 
*TIP* Register & sync a wearable or tracker (e.g. Apple Health) to automatically track your activity
In your Profile click "ParticipACTION+" and add the pin code UFVUNITE (Staff & Faculty)
Start moving – your steps and activities will be tracked through the ParticipACTION app
For a chance to earn weekly prizes from UFV and have your name listed on the leaderboard, you must enter your weekly step count here!
Check back weekly on our Facebook groups as we update the step counts, to show our progress as we move across Canada. Share your journey with us Instagram #ufv10millionsteps and tag @ufvrec!
Did some one say PARTY? Join us on Tuesday June 30th from 3-4pm for our virtual Summer Kick-off BlueJeans Party. We will wrap up our Across Canada Challenge with prize giveaways, interactive activities and give you a chance to provide feedback but, it is also a chance to catch up with our fellow co-workers and celebrate all the movement we have done together this Spring. Add it in your calendar here. Hope to see you there!