April 27, 2022
IT Services and Teaching & Learning Centre are excited to announce the launch of myClass (Blackboard) service request forms within the IT Service Desk portal.  UFV Faculty can use the new services to enter myClass requests such as Course Merge, Course Extension and Course Restore/Recovery.  The new forms will enable our IT Service team to expedite and streamline myClass service requests to provide responsive and quality support.
 Where do I find the new forms?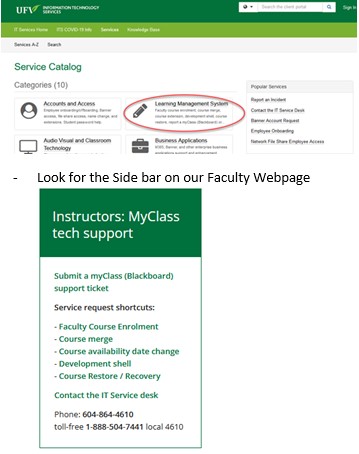 Look for the Side bar on our Faculty Webpage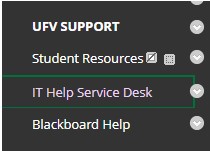 Through your Blackboard course, IT Help Service Desk,
Still need more info?
If you have any questions, please contact the IT Service Desk at itservicedesk.ufv.ca, email itservicedesk@ufv.ca or call us on local 4610 or 604-864-4610.