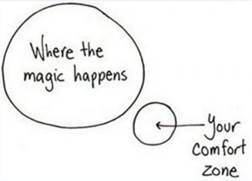 We've all seen this simple graphic, or something similar too it, but it speaks volumes about our teaching practices.
Sometimes we are thrown out of our comfort zone unintentionally and find amazing outcomes. For example, a few times while teaching many classes, I brought the wrong material to a class which quickly threw me out of my comfort zone. But, after recovering from the initial shock with a forced "I'm in control" smile on my face, they turned out to be some of the most dynamic and exciting classes!
Thoughts that keep us well within our comfort zone might be: What kind of magic can we expect to happen outside of our zone? Isn't my comfort zone magical enough? What lies in the other areas outside of my zone and where the magic happens, perhaps the flop zone?
With the quickly shifting world of higher learning, we are being forced out of our comfort zone whether we like it or not forgetting that magic may await.
Let's throw some questions out to get some ideas of what lies just beyond us. Post an experience on one of the following:
What magic did you find outside of your teaching comfort zone?
What was the worst that happened in the unknown that lies outside the comfort and magic zones?
Share the magic: What activity do you have that tends to always engage everyone?
Next semester, how about (re)visiting the Teaching and Learning Centre and/or signing up for a Tech Buddy? We can help you confidently explore areas outside of your comfort zone and find new and potentially magical activities that you can add to your teaching toolbox.