A total of 2,617 students graduated this year, with over 1,600 of them attending the convocation ceremonies and crossing the stage. Graduates celebrated their achievements with their families, friends, and faculty in four ceremonies at the Abbotsford Centre. Friends and family cheered, whooped, hollered, and even blew enthusiastically on kazoos to welcome the grads.
The Faculty of Science awarded 128 Bachelor of Science degrees, 3 Bachelor of Agriculture Science degrees, 3 Data Analysis Post-baccalaureate Certificates, and 3 Geographic Information Systems Certificates on June 14, 2022.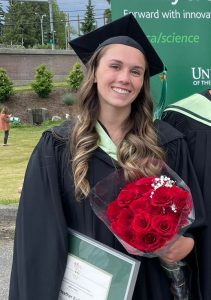 Heather Kelly, graduated with a Bachelor of Science degree in biology and was awarded the Governor General's Silver Medal for top graduate in a bachelor's degree where she maintained a near perfect 4.32 GPA!
Heather entered UFV in the fall of 2018 under the prestigious President's Entrance Scholarship. After her first year taking chemistry, calculus and biology courses, she responded to a Twitter ad seeking a volunteer in Dr. Lucy Lee's research lab. That opportunity turned into a three-year intensive research experience, where the group studied lipid nanoparticles in fish and their effectiveness in combating viruses in aquaculture under the guidance of Dr. Justin Lee. [Continue reading in UFV Today – Governor General's silver medal 2022: Heather Kelly discovers a passion for healing through research]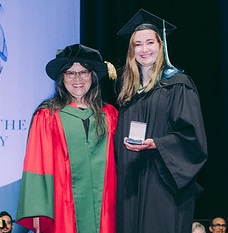 Katriana Van Woudenberg, received the Faculty of Science Dean's Medal of Excellence for 2022. She exceeded the criteria with a 4.3 GPA out of a possible 4.33! Along with her outstanding academic work and numerous extracurricular activities, Katriana did a year long research project under the supervision of Dr. Justin Lee and Dr. Lucy Lee, Dean as co-supervisor. We are thrilled to announce that she has been accepted to the Western College of Veterinary Medicine, University of Saskatchewan in Saskatoon! We wish her all the best on her next chapter.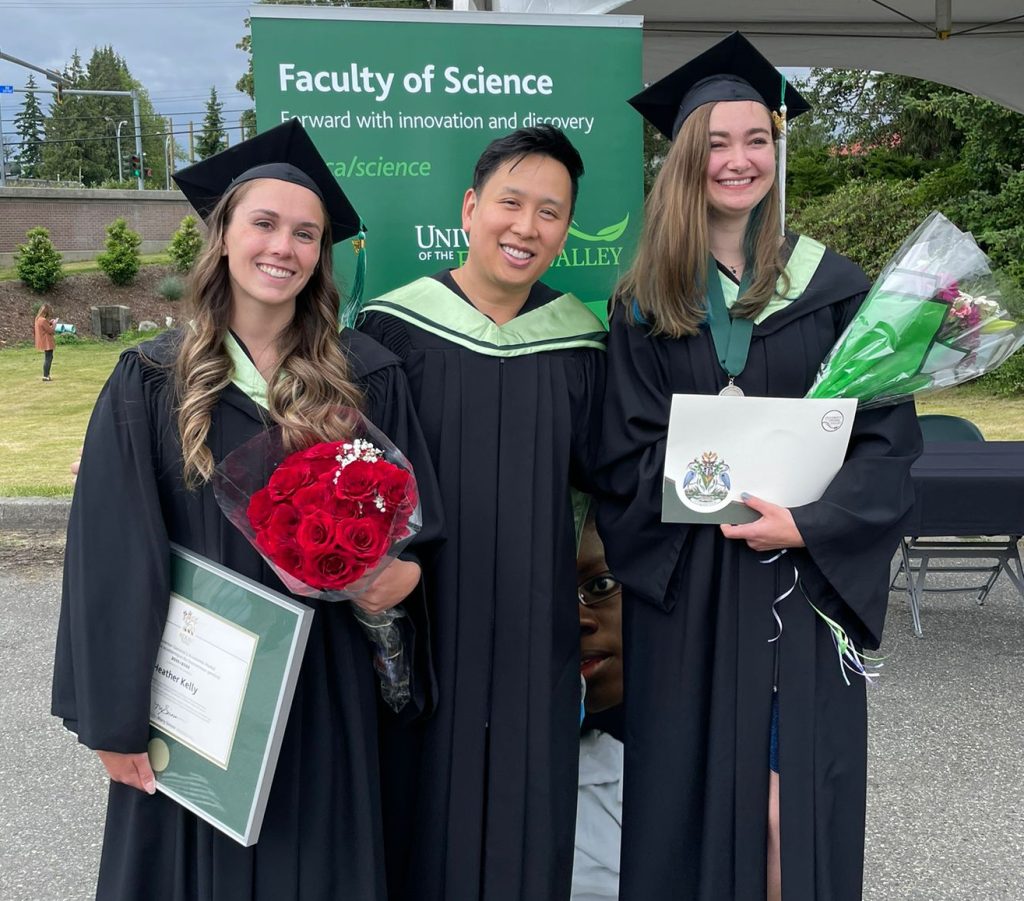 Below are the photos from Ceremony 1 on June 14, 2022.  Be sure to check out our UFV Flickr Album for all 4 ceremonies!
Read UFV Today Article, "More than 2,600 graduate as UFV returns to in-person Convocation ceremonies"