On July 16th dozens gathered for the unveiling of UFV's new Shakespeare Reconciliation Garden. This garden revives and reimagines UFV's former Shakespeare Garden that was located at the Chilliwack North Campus. It was shut down in 2012 following the completion of the new campus on the south side of Chilliwack.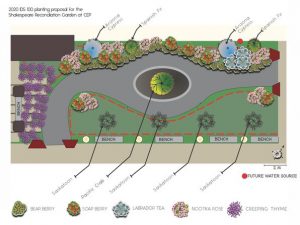 Interdisciplinary Studies 300 (IDS 300) took up the challenge of designing the new Shakespeare Garden. IDS 300 is an intersection of multiple academic disciplines, including Biology, English, Indigenous Studies, and others, with different topics being covered each semester. Biology Professor, Dr. Alan Reid, helped design the IDS 300 course and said the garden will continue to be a work in progress.
The new garden features indigenous plants as well as cultivars from other parts of the world, growing together in S'ólh Téméxw (the name for the territory of the Stó:lō people. In English, it can be translated as 'our world' or 'our land').
Some of the plants are there because they are mentioned in Shakespeare's plays. Others are there because they have significance in Stó:lō culture. Still to come are plant signs that will identify the plants in English, Halq'emeylem (where available), and Latin binomial nomenclature.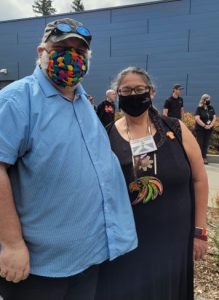 The garden aims to create a space of beauty, healing, and contemplation–a space for quiet enjoyment and a space to reflect on reconciliation, particularly between Settler Canada and Indigenous Peoples, but also more broadly, to include the everyday ways that we acknowledge past wrongs, stop, and make amends.
The garden is a symbolic act of reconciliation that "keeps living" the former Shakespeare garden in a new, evolving form that connects to and honours the past, and also aims to celebrate creativity and provide a healing and reflective space.
It is hoped that the garden will provide an outdoor educational space where students, faculty, and staff can learn about the plants and related stories, as appropriate, and that the garden will be a space of healing and beauty.
"The garden is just beautiful," says English Associate Professor, Dr. Melissa Walter. "I hope it continues to grow and develop and be loved."
READ UFV Today Article by Gerald Narcisco
Check out the pictures from our UFV Flickr Album below ∇∇∇∇∇