Eryn began her studies at UFV in 2014 and graduated with Distinction with a BSc in Biology in 2019.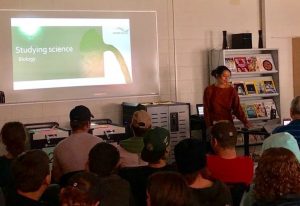 After graduation she received the NSERC Indigenous Student Ambassador Award. As an Ambassador she visits Indigenous communities and schools and shares her experience studying science in order to promote interest and participation of Indigenous youth. She began her visits this fall. She had the opportunity to travel to Winnipeg, Manitoba and Princeton, BC to speak and was invited to present at the Princeton's School District's First Nations Education Welcome Dinner. Most recently she was invited to the Mission Friendship Center's Family Night. She hopes to visit more local schools over the next few months.
I'm doing this to show how cool science is and to be a role model to young people looking towards their futures after high school!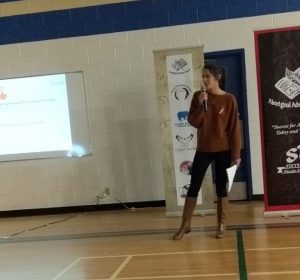 Eryn is able to share her personal experiences with these communities. She talks about why she studied science in school and what she loves about biology. She shares three of her research experiences as an undergrad student: sampling sea cucumbers on the coast for a DNA analysis in the lab; her work with the BC Cancer Agency; and working in Dr. Lucy Lee's Cell Culture Lab. She talks about the opportunities she has had to travel to conferences for her degree and how "university is so much more than sitting in classrooms listening to lectures and writing exams!" She really encourages the students to try new things – they may be surprised at what they are interested in and not to stress about having their life completely planned out by the time they finish high school.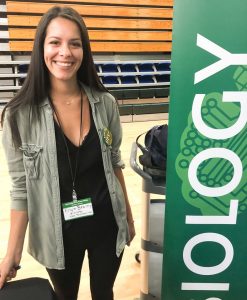 What's next for Eryn? Well, she is finishing off the fall semester in the Biology Lab as one of our technicians. She has applied for a Master of Public Health program for next fall. With her degree, she hopes to address health inequalities both in Canada and globally, and to work with communities facing health threats to reduce risk. In the meantime she has applied for an internship with the World Health Organization in Geneva! If successful, she will begin her journey in the new year!
We wish her all the best on her next chapter!