Hydrogen Rail Project & Presentation
Try and count the number of reasons why this project would impact sustainability in the Fraser Valley. You'll lose count quickly!
UBC's Urban Design Professor Patrick Condon visited UFV recently and presented on the hydrogen-powered interurban rail. The proposed train line would be EMISSIONS-FREE and run from Surrey to Chilliwack.

---
Bike infrastructure & Trike Sharing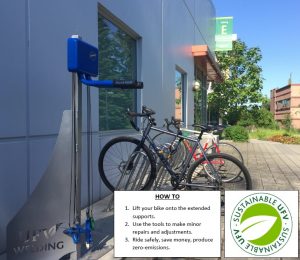 Facilities has developed a bike hub at the Athletics Building that includes:
Bike Lockers ($5/month via the Bookstore)
Bike Repair Station
Bike Racks
Showers
Personal lockers
Bike pump (Ask for it at the Athletics front desk)
CEP Building A also has a repair station, bike lockers, racks, showers and lockers.
SustainableUFV is developing a Trike Sharing Program that will be rolling out soon! The adult trike will be able to be signed out by students and staff with a valid UFV ID.
Heading across campus? Trike.
Need a break? Trike.
Want to feel like a humongous child? Trike.
Grabbing lunch across the Salton Pedestrian Bridge? Trike.
We're just finalizing the terms of use! Come by B150 and see what it's all about.
---
Electric Vehicle Charging Stations
So the government got as serious about electric vehicles this year as UFV did last year.
In 2018/2019 UFV purchased an EV to replace a clunky old inefficient van, installed 2 additional Level 2 charging stations, and our first Level 3 fast charging station. By increasing the infrastructure, we facilitated so many more charges and encouraged more UFV students and employees to make the transition to low or zero-emission vehicles.


In 2019/2020 we plan to develop more charging infrastructure projects. The government has mandated the market share of electric vehicles to grow exponentially and we are going to do our best to support that transition from traditional vehicles, to clean vehicles.
Did you know that Natural Resources Canada and the BC Provincial government funded 75% of the Level 3 Fast Charging Station project costs at UFV?
Hot take: If you have an older vehicle, utilize the scrap-it program and other incentives to upgrade your vehicle to a newer EV. Monthly payments in many cases are be covered by gas and maintenance savings. How much are you spending monthly on gas?
So, your 2006 could turn into a high-tech 2018 zero-emission EV very quickly.
---
Student Sustainability Coordinator Position Vacancy
Are you studying for a career in sustainability? Are you passionate about environmental stewardship? The Student Sustainability Coordinator position is an influential role that develops skills, knowledge, and allows you to develop legacy projects and implement them right here at UFV. Get a head start on your career development!
Enjoy flexible hours (12/week), build connections and experiences that will help launch you into a rewarding and impactful career.
If you, or someone you know is that person send a resume to blair.mcfarlane@ufv.ca, Subject: Student Sustainability Coordinator Position.
---
Single-Use Plastics
What a culture we live in. Take a bit of food off of a fork, and suddenly it can't be used again. Spoon, same. Knife, same. Cups, same. Straws, don't you dare float towards that turtle! Plastic bags? C'mon, there are alternatives.
The convenience culture has gone too far. Way too far. While single-use compostable items (UFV's Cafeteria, Fair Grounds, Spirit Bear Café) are marginally better than non-recyclable plastics, they're still lazy alternatives that support our unprecedented wasteful habits.
The Federal Government recently announced that it indeed HAS gone too far. Canada is to ban harmful single-use plastics in 2021. How do you see this affecting UFV? Should we wait until 2021 to follow? Or should we lead and make the change to sustainable alternatives now?
If you are passionate reducing single-use plastics, I think there is an opportunity to develop a working group that would be tasked with developing a transition strategy to align and exceed the government mandates in advance of 2021. Respond with your opinions, ideas, and if you'd like to participate in the transition.
---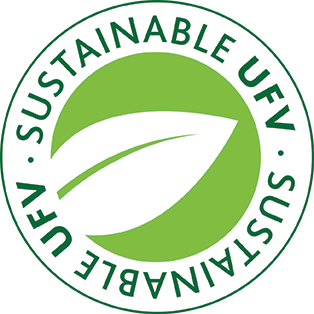 What do you want to see change next year? Submit your ideas for projects and programs. Get involved!
Have a great summer and please be mindful of your impact on our wonderful and increasingly fragile eco-systems.
Blair McFarlane
Energy Manager, Facilities
blair.mcfarlane@ufv.ca