The Faculty of Science is very proud to announce that Andrew Alexander received the 2018 UFV Young Distinguished Alumni Award at the Town and Gown held last week. Andrew began his studies at UFV in 2010 and graduated with a BSc honours in biology with a chemistry minor in 2014. We wish him continued success!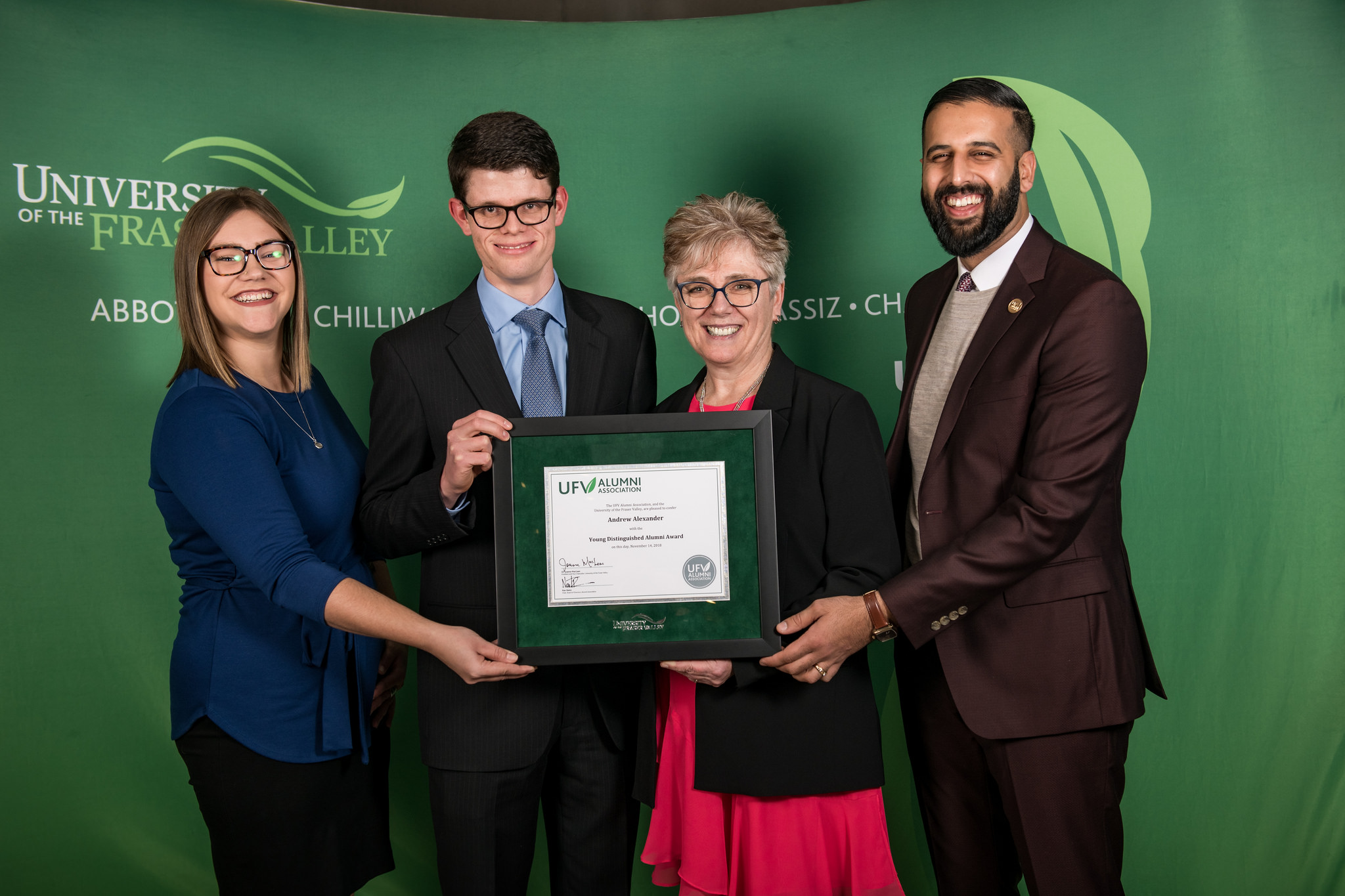 UFV Today Article
November 15, 2018
Young Distinguished Alumni winner Andrew Alexander fights scientific battle against antibiotic resistance
Andrew Alexander has only been a UFV alumnus for four years, but he's accomplished enough in that short period to earn him the Young Distinguished Alumni Award for 2018.
After finishing his Bachelor of Science (Honours) with minors in biology and chemistry in 2014, he headed into a master's degree program in molecular biology and biochemistry at the University of British Columbia, and then was invited to transition straight into a PhD program, where he continues his research. He has completed all the coursework for his doctorate with an A+ average.
An enthusiasm for scientific research sparked during his time as an undergraduate student at UFV inspired him to choose research-focused graduate studies over his original goal: veterinary school to follow in his father's footsteps.
"Science is an incredible technique to use to study the world," Alexander says. "It's awesome in the truest sense of that word. I feel driven to find out things using science, and that's what has led me to where I am today."
In his current research, he uses X-ray crystallography to study the molecular basis for antibiotic resistance in bacteria, exploring and characterizing proteins involved in peptidoglycan biogenesis and antibiotic resistance.
"By understanding how molecules interact to facilitate or prevent antibiotic resistance I hope to improve our understanding of bacteria as well as aid in the development of new antibiotics," he notes. "Through this work, I try to understand and provide solutions to the global challenge of increasing antibiotic resistance."
He plans to continue his PhD studies for a few more years, then conduct post-doctoral research with hopes of landing a permanent academic position.
Since 2016, Alexander has held a prestigious Vanier graduates scholarship, funded by the Canadian Institute of Health Research, worth $50,000 per year.