We are very excited to announce that the Let's Talk Science outreach program has officially arrived at UFV! We have now joined other universities from across Canada who connect educators and youth with outstanding volunteers to deliver a wide variety of meaningful science, technology, engineering and mathematics (STEM) learning experiences to both classroom and community settings.  All of this is free of charge thanks to our more than 3,500 post-secondary student volunteers at over 45 post-secondary Outreach sites, including ours.
We're here to work with your group or class to help youth develop positive attitudes toward STEM, while building critical skills and gaining career awareness.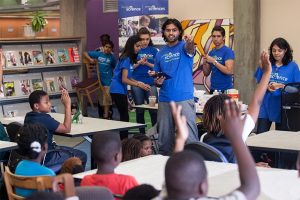 Be sure to check out the Let's Talk Science @ UFV website. Here you'll find cool activities you can do at home. If you're an educator, you can check out the curriculum and grade level aligned programs from preschool to Grade 12 and discover how you can bring these STEM activities into your classroom. Choose a subject and age group and away you go!
If you're interested in learning more about our local Outreach program or would like to get involved as a volunteer, we'd love to hear from you!
CONTACT:
David Mora Perea, Site Coordinator
Website: www.outreach.letstalkscience.ca/ufv
Email: UFVLetsTalkScience@gmail.com
University of the Fraser Valley
Dean of Science, D203
33844 King Rd
Abbotsford, BC V2S 7M8