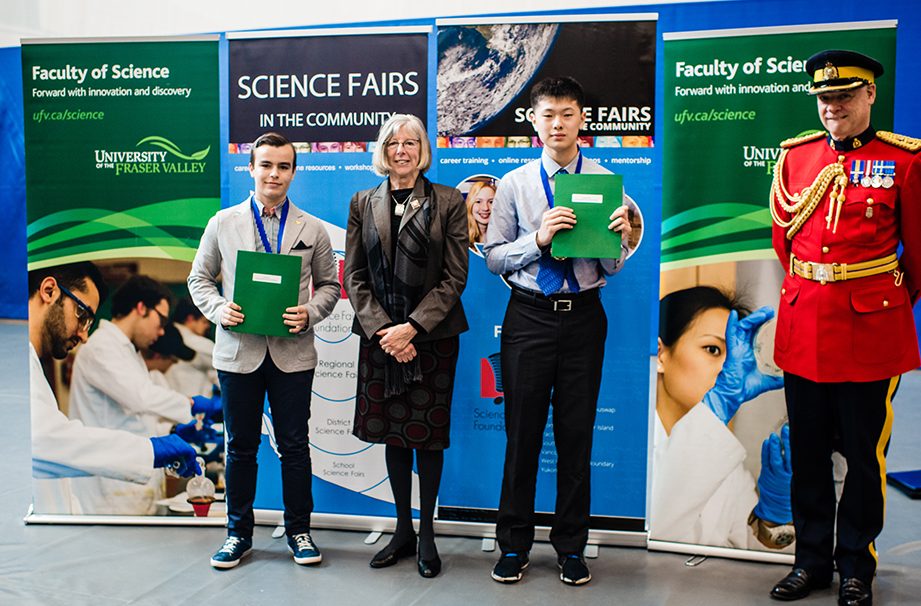 Over 50 awards were handed out at the annual Fraser Valley Regional Science Fair held last week (April 4-7). Students from 18 schools in the Abbotsford, Chilliwack, Langley and Hope area came together to compete for prizes and a chance to represent Team BC at the Canada Wide Science Fair next month.
The Grand Prize winners, of an all-expenses paid trip to the Canada-Wide Science Fair were James Fang and Raul Pinol from St. John Brebeuf in Abbotsford (pictured above with The Honourable Judith Guichon, OBC Lieutenant Governor of British Columbia and her aides-de-camp). They will be joining over 500 of Canada's top young scientists at the Carleton University in Ottawa, Ontario from May 12-19, 2018 and be competing for nearly $1,000,000 in awards, prizes and scholarships. (http://cwsf.youthscience.ca/welcome-cwsf).
Jackie Hogan, University of the Fraser Valley President awarded Ceilidh Smith, grade 11 student from Robert Bateman Secondary School an entrance scholarship to UFV.
The Telus World of Science class trip was awarded to Priyam Mehta, Grade 2 student from South Poplar Traditional Elementary school for his project 'Ants and their chemical trails'.
A complete list of the winners can be found here FVRSF Award Winners 2018.
Photographs of all winners including images of students and their projects are available on the Fraser Valley Regional Science Fair website www.fvrsf.ca
Thank you to our partners, regional sponsors, and friends of our Science Fair! Without your support and generosity we would not be able to bring together Fraser Valley`s finest science students!
PARTNERS
SILVER SPONSORS
BRONZE SPONSORS
Abbotsford/Sumas Rotary Club ‌
FRIENDS OF THE FAIR
Abacus Dental Centre
Abbotsford/Mission Nature Club
BC Principal's & Vice Principal's Association
British Columbia Young Farmers
Dasmesh Punjabi School
Expert Agriculture Team Ltd.
Fraser-Cascade School District
Simon Gibson, MLA: Abbotsford-Mission
Hot Light Studio
IQ Engineering Ltd.
Langley Environmental Partners Society
Mennonite Educational Institute (MEI Schools)