The Annual General Meeting of the Entomological Society of BC will be held at the University of the Fraser Valley in Abbotsford on Friday, October 13th, 2017. The Symposium will be held at Kwantlen Polytechnic University in Surrey on Saturday, October 14th, 2017.
The Entomological Society of British Columbia's Annual General Meeting Symposium this year is:
"Biological Control: a safe approach to pest management"
Biological control uses natural enemies of weeds and insect pests to manage their numbers. It is a sustainable alternative to chemical pest management with benefits both to society and the environment. The symposium will highlight the roles of biological control in reducing the impacts of invasive species and other pests. It will cover a range of crops and ecosystems, and highlight new developments in biological pest control in terms of agents and targets.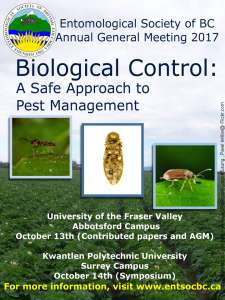 On October 13th at UFV there will be student presentations and contributed papers. On Saturday a Biological Controls themed symposium will be held at Kwantlen Polytechnic University Surrey campus. You can attend one or both days, and students get a discounted rate for registration. The meeting is a great opportunity for students to meet professional entomologists from around the province, and to find out about entomological work in our local area. The details of the meeting can be found here: http://entsocbc.ca/meetings/agm-symposium-registration/
If students have any questions about the meeting, please contact Joyce Leung, Student Director for the ESBC at jpl15@sfu.ca.