Great music, pizza and prizes were enjoyed by over 100 UFV Science students, faculty and staff who attended the 10th Annual Science Social Event this past Thursday at the PHOENIX Ballroom. Science Student Clubs and Associations were on hand to provide information and sign up new members.
Thank you to the following student groups who participated: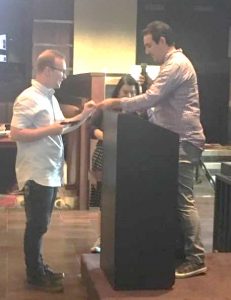 Our MC for the evening was Biology Professor, Dr. Greg Schmaltz. The Faculty of Science Acting Dean, Dr. Greg Schlitt welcomed all the students and visited with everyone throughout the evening in additional to the other faculty who were on hand.
The Career Centre was well presented with Theresa Mulder, Sidrah Ahmad and Paige Vanderveen; Martin Kelly from Student Life made his rounds; Rilla Apostolakis from the Advising Centre and Janice Nagetgaal from the Dean's Office checked in all our guests; Rabia Kamboj wore 2 hats for the evening – she not only provided the music for CIVL Radio she is also the BCSA President.
Thank you to the following UFV Science Departments for all of your prize donations!
Thank you to the Science Social Committee – Caroline Majeau and Janice Nagtegaal from the Faculty of Science Dean's office; and Rilla Apostolakis and Karen Cooper from Science Advising for organizing this yearly event.