This morning we woke up and attended a lecture from Professor Mark McCaughrean who told us about the European Space Agency (ESA) and the work they have been doing over the past few years. I found the lecture really interesting, especially enjoying some of the films that he showed us. One in particular showed us the movement of stars and the predicted path of stars moving across the night sky in the next five million years.  See one of the videos here: http://sci.esa.int/gaia/59004-two-million-stars-on-the-move/
The lecture focused on the current and future projects of the ESA and had an underlying theme trying to recruit the next generation of aerospace engineers and astronauts. The talk had a different feel than the talk given about Virgin Galactic space travel and emphasized the global cooperation and technologies required for space travel. We may not get to Mars in the next decade but it definitely seems to be an attainable goal for space agencies as technology continue to advance.
After lecture, I took off to go explore the Camden Market in Central London. The market is full of vintage stores and an eclectic range of shops with enthusiastic vendors. I particularly enjoyed the food there (surprise, surprise. Food is always my favourite. I ended up getting some miniature dutch pancakes witch were absolutely to die for.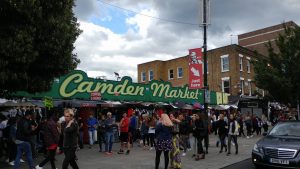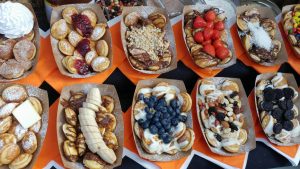 Zoe and I left the market and walked down Oxford street before returning back to the residence house and grabbing dinner. We had to stop and shop because apparently in Newfoundland there is not a lot of malls. Having visited Newfoundland this summer, I have to agree that the shopping is not the best, and I was happy to go out and spend the day shopping in London.
The evening brought another lecture, this time by Professor Semali Perera who talked to us about nanotechnology and some of the organic chemistry being engineered to filter and purify air and water. The benefit of using chemically engineered product over HEPA filters and other existing purifying techniques is the longer life span of chemical products and the reduced size of filtering machinery. Huge potential for future industry!
I enjoyed the talks and the days and am looking forward to tomorrow, T.