Hi Everyone,
I can't believe that LIYSF is about to end. Well, I can…my body is very tired, but the weeks have flown by. I'll definitely miss the new friends I've made, and hope to see them again someday.
Today started with our final set of specialist lectures. I learned about emotional recognition in computers – a tricky field, but some progress has been made. It was amazing to watch the computer pick out emotions from peoples' faces as they enacted different expressions, and also as it picked out different emotions from different lines in emails. The speaker asked we not take pictures due to the large number of faces being displayed in the slides, but a simple google search will reveal many simple example programs online.
Next, I visited the state rooms of Buckingham Palace along with a small group of half of the people attending LIYSF. This time, Her Majesty requested that we not take pictures (not directly, but by proxy). If you ever get the chance to visit during the two weeks of the year it is open, I would strongly recommend it. Every room is ornately decorated with incredible attention to detail. Even the floors have clever patterns on the wood – which are then covered by carpets. That said, even though the rooms look amazing, I would hate to live in such a place. Many people I talked with shared that consensus; we were all terrified of bumping into something and damaging something priceless. Buckingham Palace is beautiful and ornate, but definitely not minimalist or even overly functional.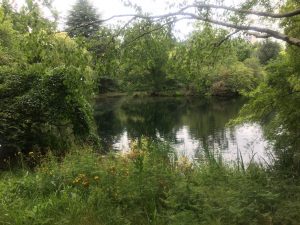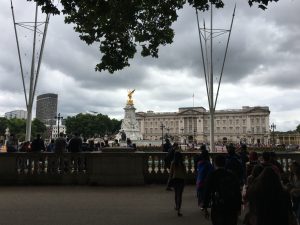 The day ended in the Beit common room with karaoke late into the night. Some people choose the wrong songs to sing (in other words, anything by Ke$ha), but fortunately, wiser heads prevailed and dominated song selection with choices like "A Whole New World", "Don't Stop Me Now", and "You Give Love A Bad Name". As expected, the night ended with a poorly-performed but highly enthusiastic version of Bohemian Rhapsody.