Hi everyone,
The days are starting to blur together now. Lack of sleep and constant activity is definitely reducing my ability to do…anything, really. Such as post blog posts on time. Or remember what happened on which day (I wrote a paragraph about the Culham Fusion Centre before realizing I'd already written about it) But yet, I still try…
Today started off with another batch of specialist lectures. My first lecturer (Jameer Emamally) works in aerospace and nuclear engineering. He called his topic "Engineering in our Lives", but really it described project management. I suffered no disappointment with that topic; project management is a vital part of engineering and students often overlook it. He often used paper airplanes as an analogy, which I think reached a range of students. Anyone can build a simple paper airplane, but creating a good one can require a surprising amount of engineering.
Next, Professor David Smith discussed his work in Chemistry. Although some of the more advanced chemistry flew over my head, he kept it mostly understandable for us non-chemistry types. I found his explanation of how anti-bacterial drugs worked fascinating. One approach is to develop molecules that bond completely with a bacterial cell wall. This breaches the cell wall, killing the bacteria.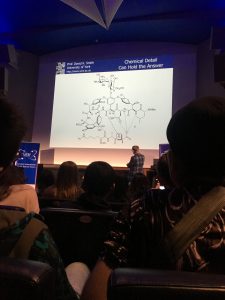 Later, I visited the science museum in London. Regrettably, we only had a couple of hours with which to visit. Even more unfortunately, my group spent too much of that time in the more kid-focussed setting, before discovering a non-obvious door to the more interesting part of the museum. There, we marvelled at a variety of exhibits as quickly as possible:
I could not stay as long at the museum as I liked because the International Cabaret was in the evening. Many people played beautiful songs, danced, and otherwise showcased their talents. Also, the Aussies ended the night with a massive dance, dressed as Australian as they could.
A few more common themes have emerged throughout LIYSF. Everyone has gotten tired of the Australia jokes, particularly the Australians. Everyone is also sick of the same lunch every day – Tesco sandwich, apple, bag of chips (not crisps), and a bottle of water. People have begun taking bets on how long the lines will last, with Christmas as a common choice. The epitome of disappointment occurs when an individual is stuck at the back of a line and only vegan options remain.