Congratulations to this year's recipients of the Faculty of Science AAAwards!
Each year, the Dean of Science in consultation with the department heads of science decide the recipients of these awards. They were handed out during the last Faculty Council meeting of the year.
Alan Reid – Awesome Achievement Award, for overall excellence in academic endeavors.
Alan's dedication to his students and the Faculty of Science has been outstanding ever since he arrived at UFV. His teaching evaluations continue to confirm his commitment to his students. His courses taught in Biology and Indigenous Peoples Knowledge (IPK) are always well received. Alan has excelled in scholarly activities in many ways including mapping the trees and shrubs at the UFV Campus. He continues to be highly involved in departmental and institutional activities as well as in the community and the profession. His commitment and dedication to the Faculty of Science and the UFV community makes him a worthy recipient of this year's Awesome Achievement Award.
---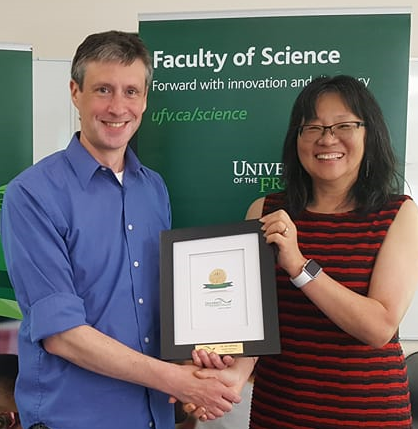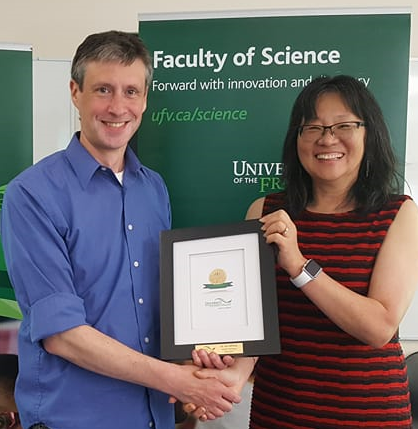 Ian Affleck – Terrific Teaching Award, for instructional excellence
Ian's consistent dedication to his students' success at UFV has made him the perfect recipient of this year's Terrific Teaching Award. His commitment to students has earned an A+ in teaching for over a decade! "Best math Prof I've ever had!" is a shared remark by many of his students.
Ian continually meets the university's mandate is to "Change lives and build community". The Math and Stats Department and the Faculty of Science as a whole are very lucky to have such a remarkable role model for our faculty, staff and students!
---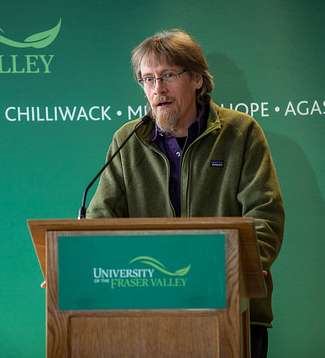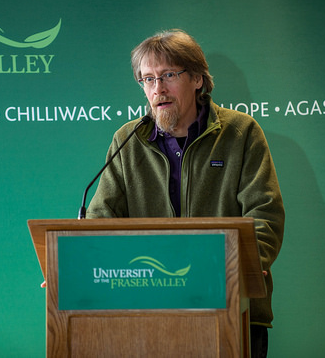 Erik Talvila – Remarkable Research, for excellence in scientific research endeavors
Erik's dedication to mathematical research and continuous manuscript publications since he joined UFV in 2003 has made him a great member of not only the Math and Stats department but the Faculty of Science as a whole. His research interests include Henstock-Kurzweil Integration, Distributional Integrals, Fourier Transformations, Poisson Integrals, and Phragmen-Lindelof Principles just to name a few! Erik's dedication to his craft has made him a worthy recipient of this year's award.
---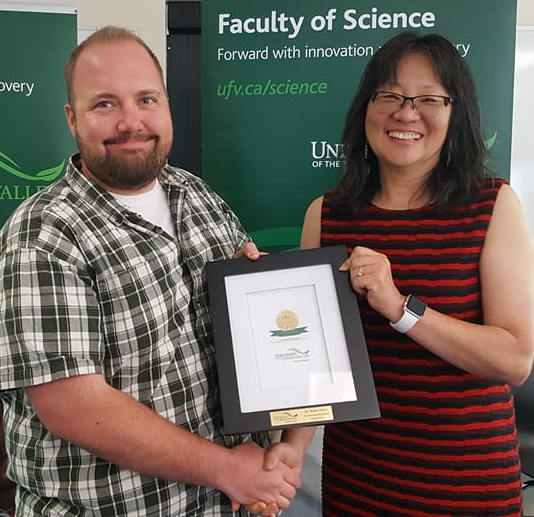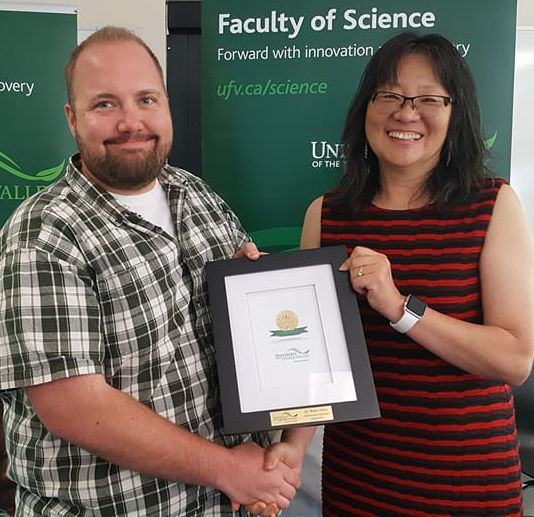 Robin Kleiv – Outstanding Outreach, for excellence in community outreach events
Robin has been an active member of the Physics Department ever since he came to UFV 3 years ago. This year alone, in addition to his busy teaching schedule, he presented at UFV's Microlectures 2017 and provided 2 workshops at UFV's Professional Development Day. He continues to volunteer his time with many student outreach events, including judging at the Fraser Valley Regional Science Fair. Robin's research, community activities, and the concern and care he's provided to students has been remarkable! The Faculty of Science is very fortunate to have such a wonderful role model for students and faculty. Robin is the perfect recipient of this year's Outreach Award!
---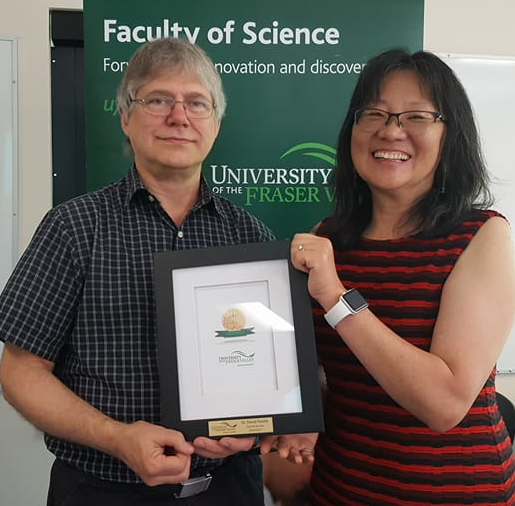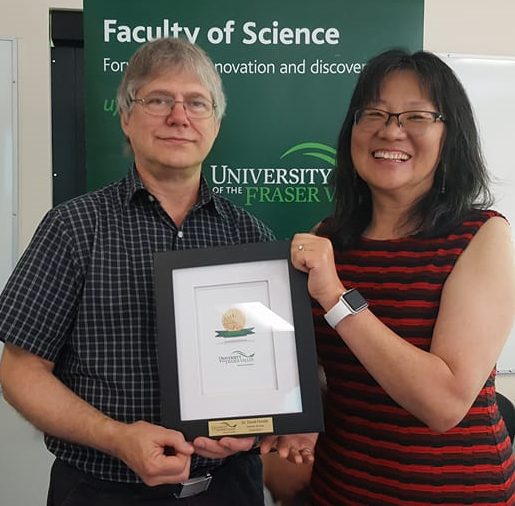 David Fenske – Superb Service Academic, for outstanding performance of service duties
David has served as Department Head of Chemistry for 3 full terms. His service to Chemistry, Science and the University at large has been exceptional and appreciated by all who have dealt with him. His commitment, dedication, supportive and humorous nature is respected and makes him a worthy recipient of this year's Superb Service Award!
---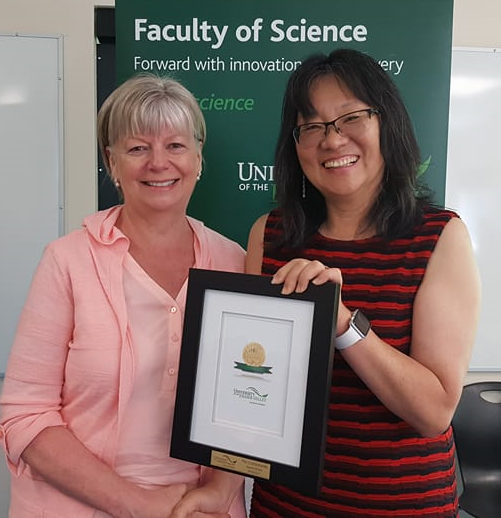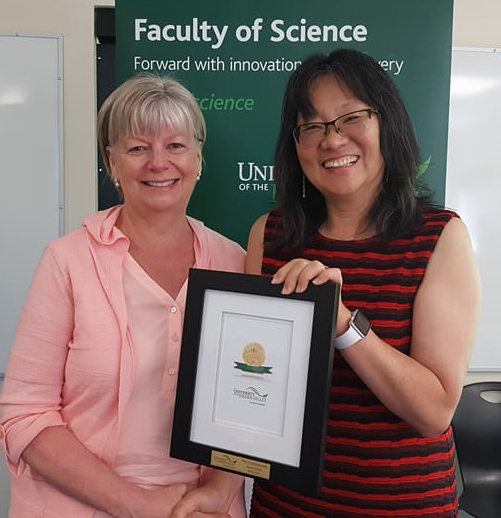 Pat Cruickshanks – Superb Service Staff, for outstanding performance of service duties
Pat's dedication to the Math and Stats Department over the years has been indispensable. Her gentle nature and attention to detail is appreciated not only by those in Math but all who have had the pleasure of working with her. Pat has been a key part of the team in organizing many outreach events over the years. Colleagues have applauded her hard work which makes Pat the perfect choice for this year's award! Pat, we wish you all the best on your retirement!