How can you go wrong at building your skills while you study! The Work-study program allows you to gain 120 hours of professional employment experience over the course of one semester in conjunction with your studies.
Biology Professor and Outreach Coordinator, Christine Dalton put out a call in January for a work-study student to organize science outreach programs in the Fraser Valley. Along came 2nd year BSc student, Megan. She began with the Super Science Club program at Rick Hansen Secondary School. It quickly grew to include Dewdney Elementary Mission, Shortreed Elementary Langley and Yarrow Community School in Yarrow.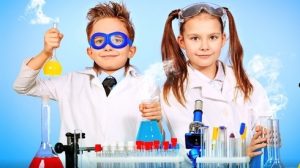 Megan provided interesting science activities with groups of students from grades 3-6. They were given the opportunity to investigate and explore various topics including animal grossology, elastic energy, flight, solar system and starts, solar energy, balloons, pollinators, plants, states of matter, illusions and more!
Megan received training from Science World and the opportunity for hands-on teaching experience. She has gained valuable experience in all aspects of outreach, including recruiting students, promoting, managing and executing the program.
The Super Science Club is a partnership between the UFV Faculty of Science and Telus World of Science. For more information on the Super Science Club please visit out our website.
Do you looking for more information on the Work-study Program? Please visit the UFV Career Centre