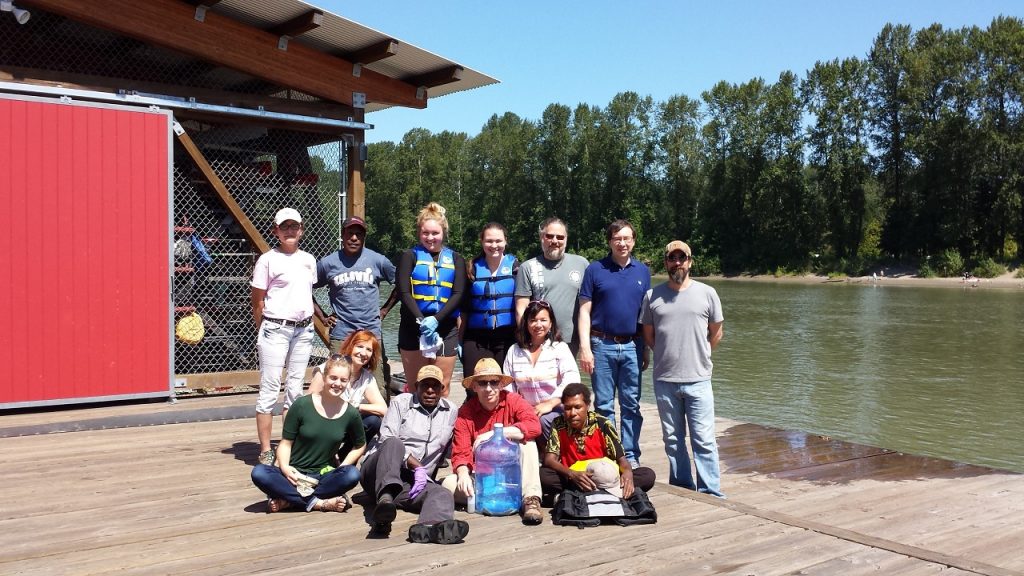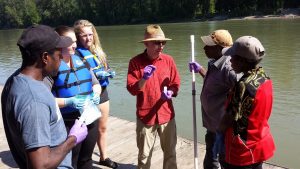 On Tuesday June 28, 2016, Steven Marsh and research students (current and former) met Senior Scientist Dr. Bernhard Peucker-Ehrenbrink and guests at the rowing dock at Fort Langley to conduct their bi-monthly sampling of the Fraser River.  The guests included Carol Mayer (Curator Africa/Pacific of Enthnology/Ceramics), Skooker Broome (Manager Design, Museum of Anthropology, UBC), April Ingham (Director, Pacific Peoples Partnership),
Julia Paine (Woods Hole Oceanographic Institution Intern working with Bernhard Peucker-Ehrenbrink and undergraduate University of Miami), Claytus Yambon (Village Councillor and artist, Korogo Village, Papua New Guinea), Nancy Wani (artist and bilum maker, Korogo Village, Papua New Guinea), Edward Dumoi (artist, Palembei Village, Papua New Guinea).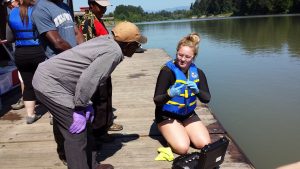 UFV students included Audrey Faber (UFV GATE Alumni), Madelaine Bourdages (UFV GATE and French major and current research assistant working with Steven Marsh), Alanna Strangway (UFV Gate major and current research student working with Steven Marsh), Donovan Toews (UFV GATE major).   Bernhard and the UFV students explained and demonstrated the sampling protocols used for the collection of water samples and water geochemistry data.  It is intended that our guests from Papua New Guinea will begin the time series sampling of the Sepik River in Papua New Guinea.
In addition, they are continuing with their sampling, Professor Marsh's research students (Audrey Faber and Ellen Clemence) from last year traveled to Woods Hole and completed practicums.  They worked under the supervision of Bernhard Peucker-Ehrenbrink analyzing there data from the Clayburn-Willband watershed.  They presented their research posters at the Annual Conference of the Western Division of the Canadian Association of Geographers hosted by UNBC in Prince George, at UFV Student Research day and at the Annual Conference of the American Association of Geographers held in San Francisco.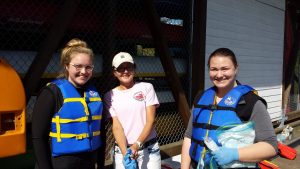 Audrey won an award for her poster at UFV Research Day.  This year he has two research students (Madelaine Bourdages and Alanna Strangway) that will be working on projects determining the past geochemistry of the Fraser  and sample for anthropogenic plastics in the Fraser.
UFV Geography and the Environment (GATE)