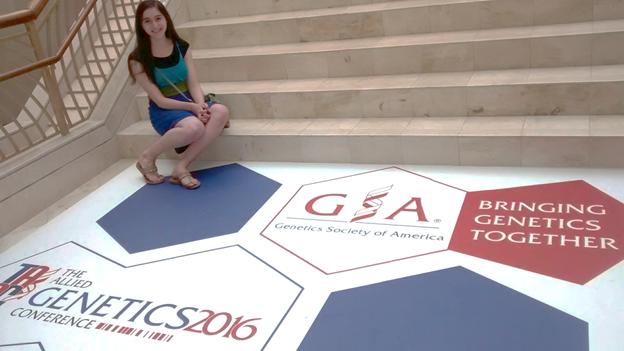 4th year Biology student, Vivienne Beard, recently attended The Genetics Society of America's (GSA) Allied Genetics Conference held in Orlando, Florida July 13-17, 2016. The Conference brought together seven different genetics research communities for a one of a kind event. The GSA members and leading scientists from around the world are selected to present their research findings at plenary, platform, and poster sessions.
There were the big things that made it excellent – the passionate speakers, the educational workshops, the scientists from around the globe … I feel extremely blessed to have had this opportunity, and I am so thankful for everyone that organized it (thank you GSA!), supported me with funding (thank you UFV!) and gave me the opportunity to do research in the first place (thank you Dr. James Bedard!)

I think that when people get together for an event like this, great things are bound to happen. Who knows what connections were made and what ideas were sparked that will bring new projects and discoveries to fruition in the upcoming years and decades!
Be sure to check out Vivienne's Blog and read more about the Conference!
What's next for Vivienne? Well, tomorrow she's off to London, England to represent UFV at the 2016 London International Youth Science Forum!! She'll be blogging her experience here: http://exploringscienceinlondon.blogspot.ca/