Dr. Lee and 3 UFV students presented at the World Congress on In Vitro Biology. It was the 70th anniversary of the Society for In Vitro Biology (SIVB) held in San Diego, California this month.
Gagandeep Rai (UFV BSc 2016) presented at the poster competition.
Harshraj Sidhu (UFV 4th year Biology Student) made an oral presentation.
Kamal Moghrabi (UFV BSc 2015) took third place at the poster competition beating out many MSc and PhD students who participated in the competition.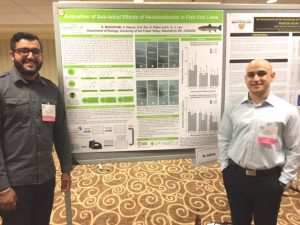 This was a first place for the IVACS section (In Vitro animal cell science) compared to the combined SIVB that also includes In Vitro plants. Participants were international students from the USA, India, Japan, and various other countries.