The 43rd annual CEW will be held at the Shaw Conference Centre in Edmonton, Alberta on September 25-28, 2016. The theme of the 2016 CEW is "planning for uncertainty".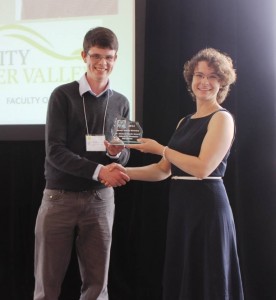 UFV Biology student, Andrew Alexander won the prestigious Playle Award back in 2014 for his BSc Thesis entitled "Enrichment, isolation, and identification of oil degrading bacteria from the Fraser Valley of British Columbia".
The CEW Board of Directors is now inviting submissions for the Dr. Richard C. Playle Award for Outstanding Thesis in Ecotoxicology. Nominations will be accepted until June 9, 2016. Nomination requirements and assessment criteria are available here.
Student Travel Grants
Need assistance travelling to the workshop? If you are giving a poster or platform presentation and go to a Canadian University >700 km from Edmonton, it couldn't be easier! Travel Grant submissions are due June 30, 2016 so submit your application to Lisa.Taylor@Canada.ca. For more information, see CEW Student Travel Grant Page.
For more information about the 2016 conference, see 2016 Announcement and 2016 Scientific Program Sessions list.